HBI Lighting
Standing out in intelligent lighting solutions for public spaces, indoors and out. Taking on a leading role nationally and internationally in the top segment of highly sustainable light fittings for a safe and sustainable world. These are the strategic principles that make HBI stand out from the rest of the market. HBI is official member of the LoRaWAN Alliance and producer of LoRa emergency lighting.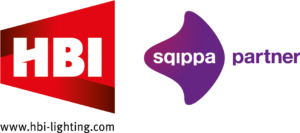 Sqippa: One building, one platform
HBI is also initiator of Sqippa. Sqippa is an IoT platform for wireless monitoring of sensors and devices in buildings. Sqippa's ambition is clear: one building, one platform. One infrastructure that connects all devices and sensors to each other. In order to reach this goal, collaboration between chain partners is a necessity. Sqippa is therefore also a community that includes cooperation between manufacturers, service providers and building owners which aims to align products and services. Partners in Sqippa work together by sharing knowledge in order to find the best solutions for sustainable building management. Smart Buildings. That's the power of Sqippa.