Hello everyone!
I am just getting started with LoraWAN using the bundle kit by meshed.com.au (http://meshed.com.au/product/arduino-with-shield-and-mdot-lorawan-module/) I have been following the tutorial on the the things network website on how to get the device activated(OTAA) after registering it online. I have included the TheThingsNetwork.h file in my arduino sketch, but the example "Send" that comes with the TheThingsNetwork library only supports the EU868 and US915 frequencies.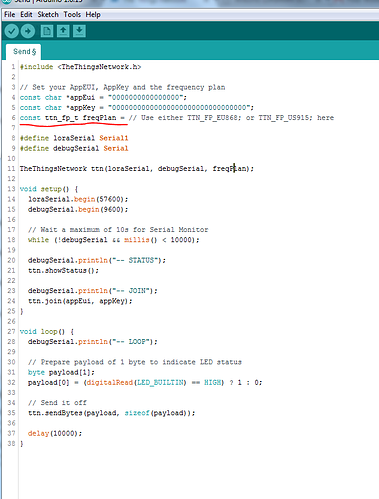 When I run the above code with the US915, it compiles but doesn't give me any output.
I have had a look at the library C++ Source file and the Header file, they only have functions for the EU898 and US915 frequencies and nothing for AU915.
So is there a library that supports/handles the Australian frequency that has been already written by someone else? or am I missing something that can allow the usage of US915 to work in Australia? How are the others working around this problem?