Hello all,
I am encountering a weird issue with the device address of my 'custom' device. I a using a Nucleo-WL55JC using the default LoRaWAN_End_Node_DualCore project provided as a example by ST. The LoraWAN stack is compliant with v1.0.3 Revision A specification.
The problem is that regularly, when the device tries to join the Network via OTAA, it retrieves the wrong device address. I'm in eu, so following https://www.thethingsnetwork.org/docs/lorawan/addressing/, my device address should be 0x2601xxxx if I understood correctly. However, I noticed that when the device retrieves a wrong address, the TTN backend shows an address in 0x260Bxxxx, while the device uses an address in 0x2601xxxx.
When printing the device address out the device after the join, it corresponds to the address received by the gateway when trying to send a packet.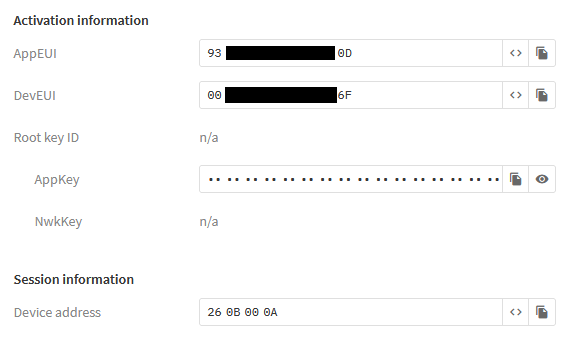 Any Idea on what could cause this issue ?
Regards,
BC