Hi Everyone,
I'm trying to get a Gateway and Node up and running. I read through many other articles before posting. I hope there's somebody here who can help. I try to report as specific as possible.
I'm using the Microchip LoRa Eval Kit, European version.
I've followed this tutorial to set up the Gateway. While the steps required to set up the app on TTN Dashboard are slightly outdated, it seems to have worked. The Microchip Dev Utility show the Gateway as online.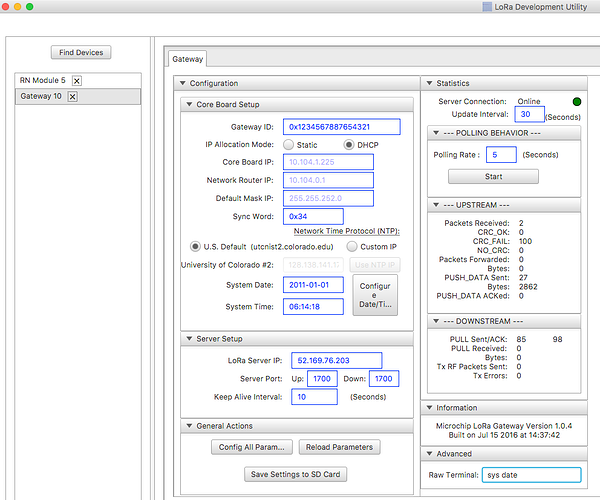 Questions:
1. I did not register a Gateway via the TTN Dashboard. Is this correct?
2. What would be the advantage of registering my Gateway?
3. As far as I understand, registering my Gateway with the gateway connector would require to run custom firmware on the Microchip board. Is this correct? (Any links how to get the gateway connector up and running would be perfect!)
4. When selecting packet forwarder, I have to configure the Gateway EUI. Where do I find it?
Observation: The Microchip Gateway seems to frequently lose time / date info. I've configured it to get time / date via NTP. Is anybody else observing this?
I've also set up the MOTE node according to the tutorial. As far as I can tell, according to the log, everything went fine during configuration:
17:31:08.466 > mac set devaddr 26******
17:31:08.475 > ok
17:31:08.475 > mac set appskey 91*****************************
17:31:08.490 > ok
17:31:08.490 > mac set nwkskey 88*****************************
17:31:08.505 > ok
17:31:08.505 > mac save
17:31:09.654 > ok
17:31:14.720 > mac join abp
17:31:14.726 > ok
17:31:14.747 > accepted
The MOTE's display shows
CDC Mode
  Command
USB Handler
For the status of the device, TTN Dashboard shows: never seen.
In essence, I've done everything according to the tutorials. I'm stuck registering the Gateway. The node doesn't seem to be connected.
Any help is greatly appreciated!