Looks like it is going to be around € 269,70

(excluding VAT)
wow, and default support for TTN ?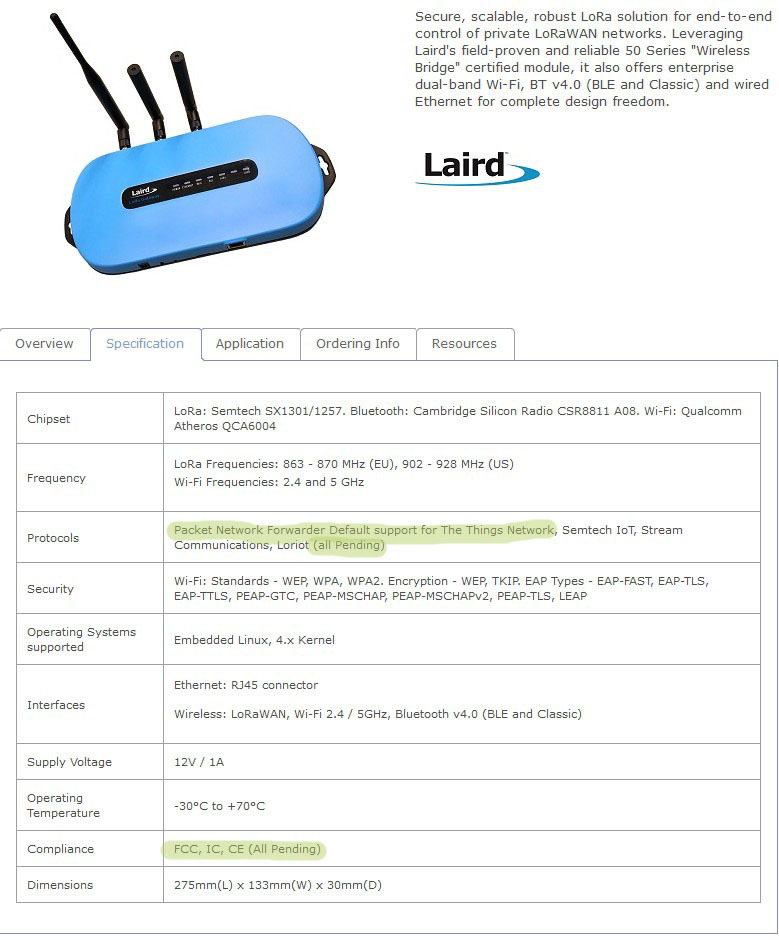 We have one in our office now and it seems to be working fine as a 'Legacy' Packet Forwarder. Please let me know if you need more information. We will be selling them as a B2B distributor in the EU.
sure… minimal the price and delivery time/costs

preferably in this topic
Seems RG186 is available per direct, €245,- ex vat. Works out of the box with TTN. Anyone has experience?
EBV did send me an email, telling the units are on stock…
Just received the Sentrius today, Easy to set up, does not have bluetooth yet, no need for it anyway.
Have registered it on TTN a few hours ago, how long does it take to show up on the network??
Here in Toronto the cost was $355 Canadian.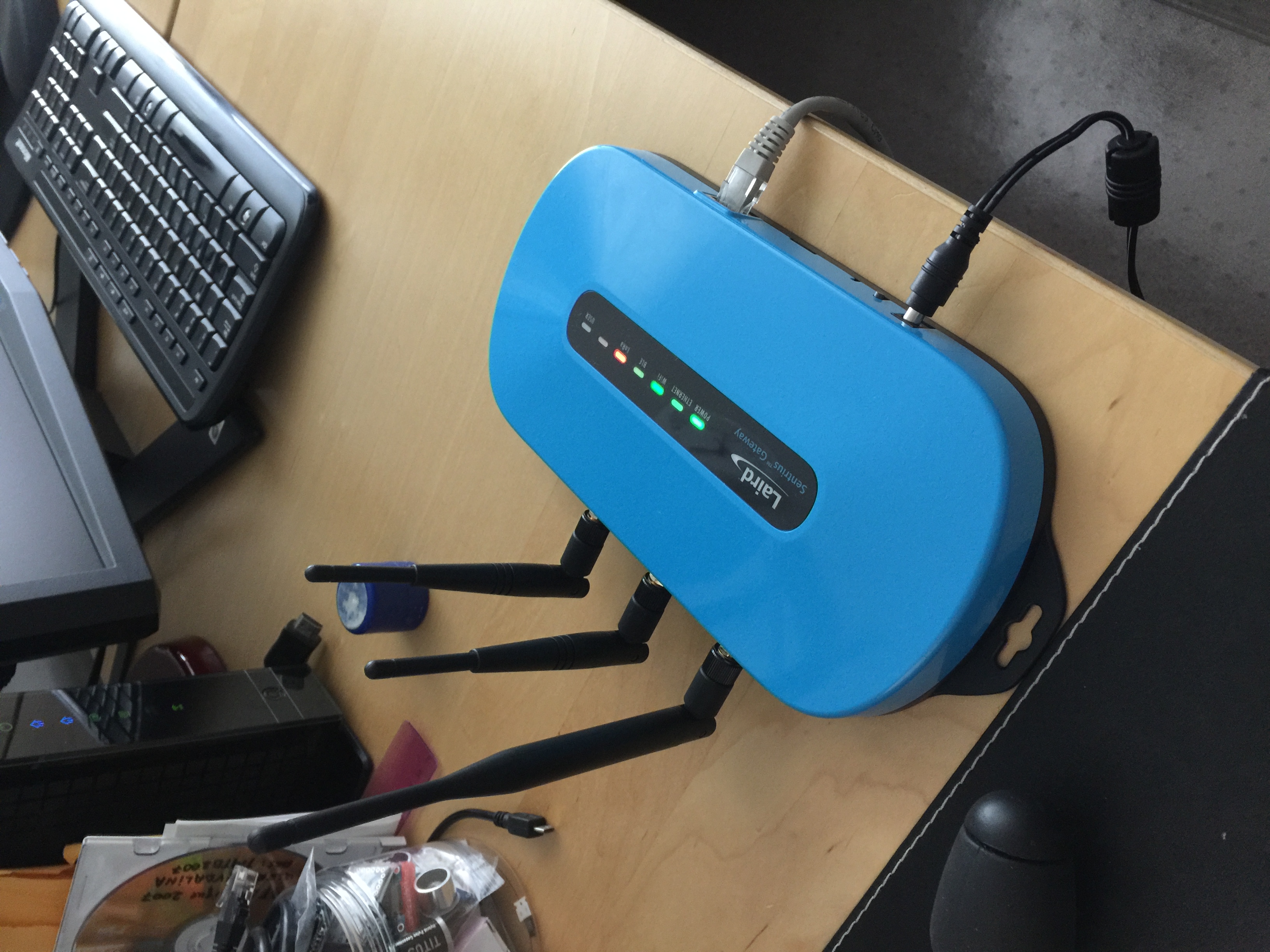 Maybe there's some misunderstanding at EBV to me they said their units were arriving on the Sept 5.
I'll check again tomorrow, thanks.
I got last one at our Canadian distributor. When you get yours it runs the Semtech UDP packet forwarder protocol.
I updated the firmware thinking it might update to the new TTN forwarder and it did not.
Easy to set up and get going. Interface is really easy. I think that the plastic case is not that great.
Lora Gateway TTN Test : Laird Sentrius
This week we received our first Laird Sentrius Lora Gateway at the office. Time for a first test to replace our RasPi based TTN gateway that frequently stalls. (Probably due to the SD-card unreliability).
As true Hardware-freaks we first opened the case to take a look inside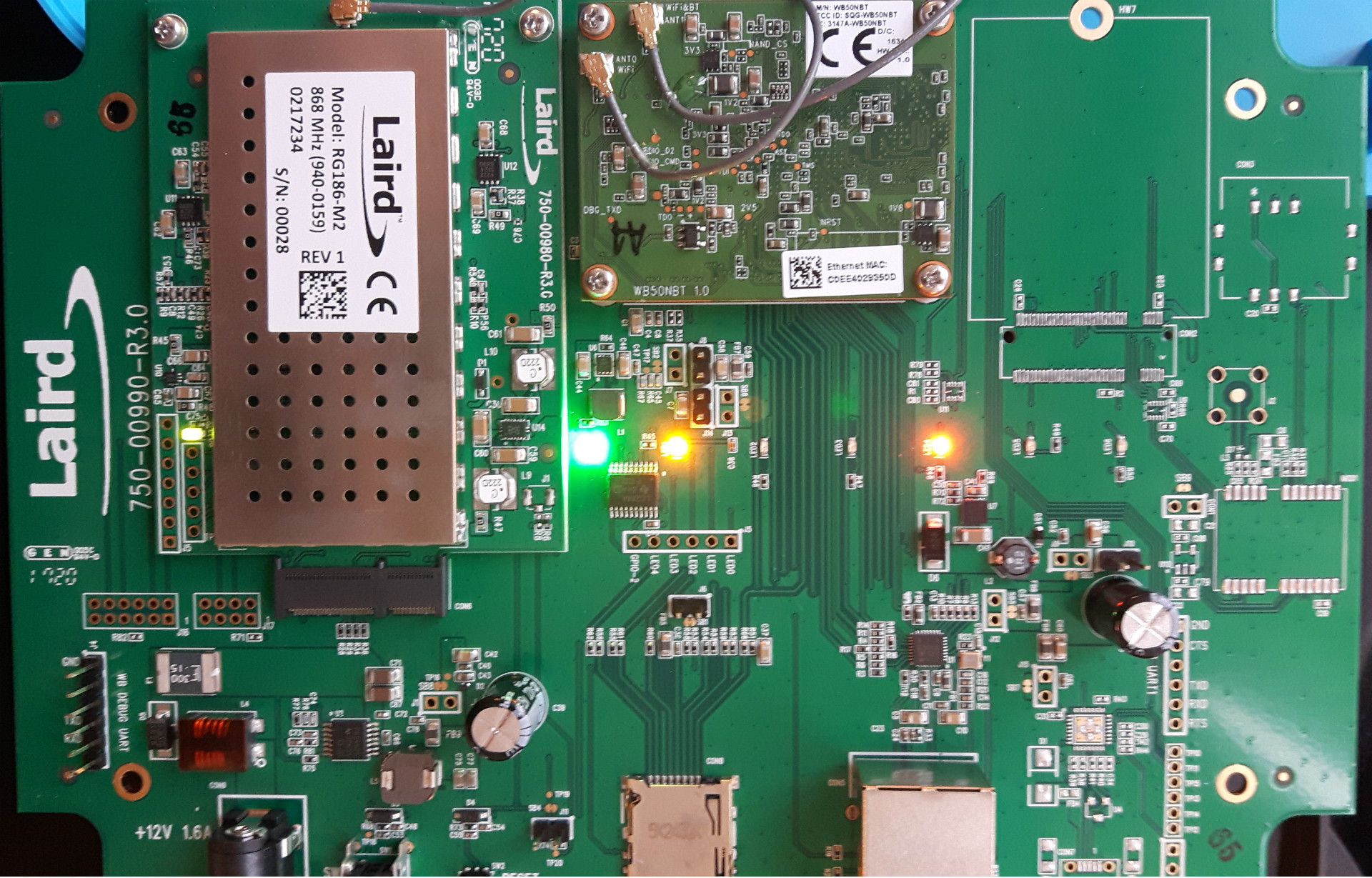 The Sentrius board is a quite simple setup, containing a base board with power and Ethernet interface, stacked with just 2 modules: A Linux-Based Wifi/bluetooth module (WB50NBT) with Atmel Cortex-A5, combined with a Lora-M2 module (RG186-M2). This is the concentrator-card containing the famous Semtech SX1301 and SX1257 radio chips. Three antennas are connected via u.fl-connectors to the external casing.
The Sentrius supports Dualband Wifi, Bluetooth 4.0 (BT and classic), LoraWan and Ethernet, and comes with full packet forwarder software with a set of defaults for well-known LoraWan Network providers, (including TTN - The Things Network).
Out of the box, the gateway is connected via the Ethernet port to your internet-available network. Like common gateways and routers, the GUI interface works via an HTTP connection. Setting up the gateway for TTN is a matter of 10-15 minutes using the presets. In advanced mode its possible to tune the gateway for other networks – public or private. With additional development on the linux-platform, it should be possible to add multi-packet forwarders for any type of network – this is to be continued.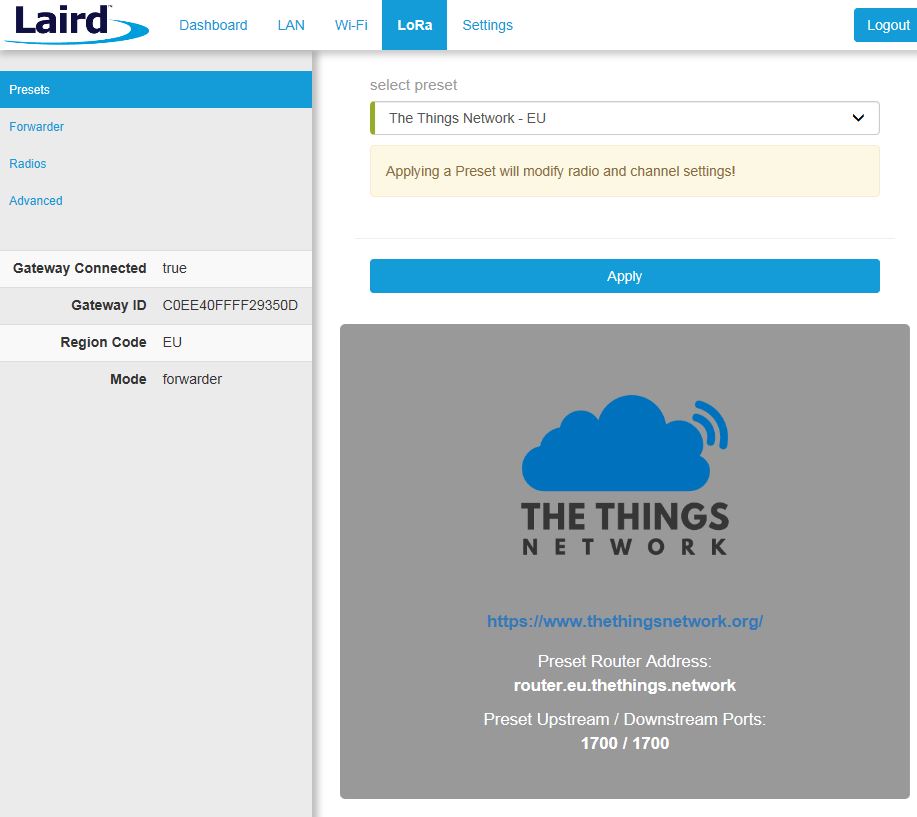 The gateway is now 24/7 operational, and it's worth mentioning that the system is not running very hot (what we saw with our RasPi solution with a MultiTech concentrator it would burn your fingers!)
Gateway costs a 245Eu and the M2-concentrator module only will be available well below 100Eu by end-Q3.
Interest? – drop me a mail
[quote="javos65, post:18, topic:6077, full:true"]Gateway costs a 245Eu and the M2-concentrator module only will be available well below 100Eu by end-Q3.
Interest? – drop me a mail
[/quote]
So €245 for a (as of 11/07) certified gateway with wifi and ethernet, available now? That will rough some feathers up

.
edit
Digi-Key had 10 units in stock at €250 a piece, but these apparently sold out immediately. They now show 16 weeks lead time. Mouser prices them at €224, but also with 9 weeks lead time.
Tthe 10 units are still at Digikey, but you can't buy them if you're logged in from Europe because they haven't received the necessary export paperwork from Laird yet. I was in touch with them but August is that dreaded month when nothing seems to happen no matter how hard you try
Yes feathers will be definitely be roughed up, not only is the base cost very interesting but I know understand that if you say order enough RM186 modules (and I'm not talking thousands here) Laird may even supply a gateway as a development kit free of charge.
I received the Sentrius RG186 yesterday (obligatory unboxing pic https://twitter.com/jmarcelino/status/901087956638863360 )
I'm liking it do far, SUPER easy to connect to TTN, just open the web configuration page (mDNS is enabled) choose the TTN profile and away it goes. This is the easiest TTN gateway I've used.
It's true that the plastic is not the strongest, attracts fingerprints like crazy, you only get an Europlug power supply, no UK plug or adapters for other countries and the SMA connectors are all RP-SMA (but all antennas are included).
Still it's excellent value for $250 / €210.
Curiously there's an extra covered antenna hole… umm I wonder what's coming.
The radio setup screen is pretty neat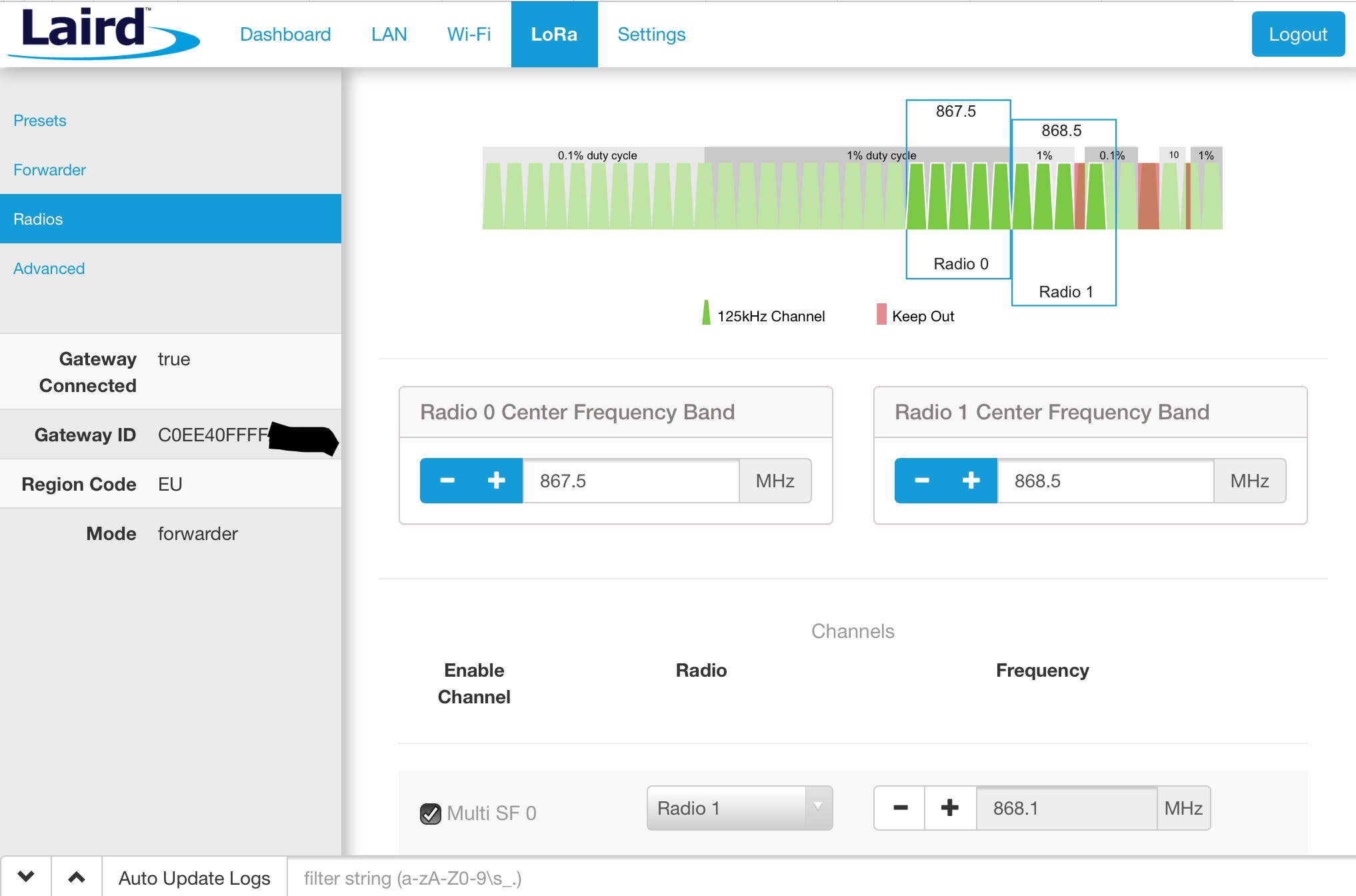 The only disappointment is that there's no Linux shell, only the web interface, no SSH or telnet. Has anyone managed to enable it?
and what about BT … nothing in the menu ?
Bluetooth is there in the hardware but not enabled yet as far as I can see. One of the reasons I want shell access
No VPN options either.
you'll find it …
Just ordered one as well as I want to put the MP forwarder on it. If you find how to access it I'm very interrested
Gateways like the Cisco one or the Conduit (afaik) have the option of having two concentrator boards, each with their own antenna port. E.g. for use with multiple frequencies or high-gain directional antennas. Maybe this is reserved for something similar?