Simple tool foor creating and managing settings files:
http://www.software-algorithms.com/ConfigEditor/help/ConfigEditor.html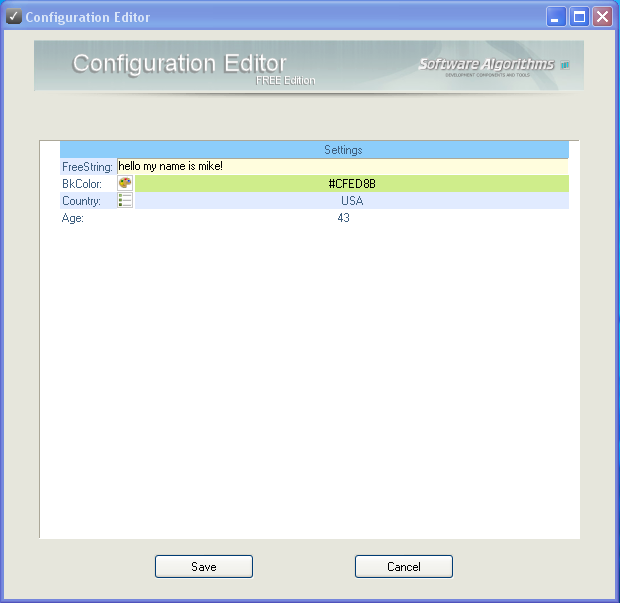 With thanks to my students for pointing me at it.

Interesting to see where the Cloud computing money goes…AWS = next 3 rivals. 2019 market 2x 2017 value… >$100Bn for 2020?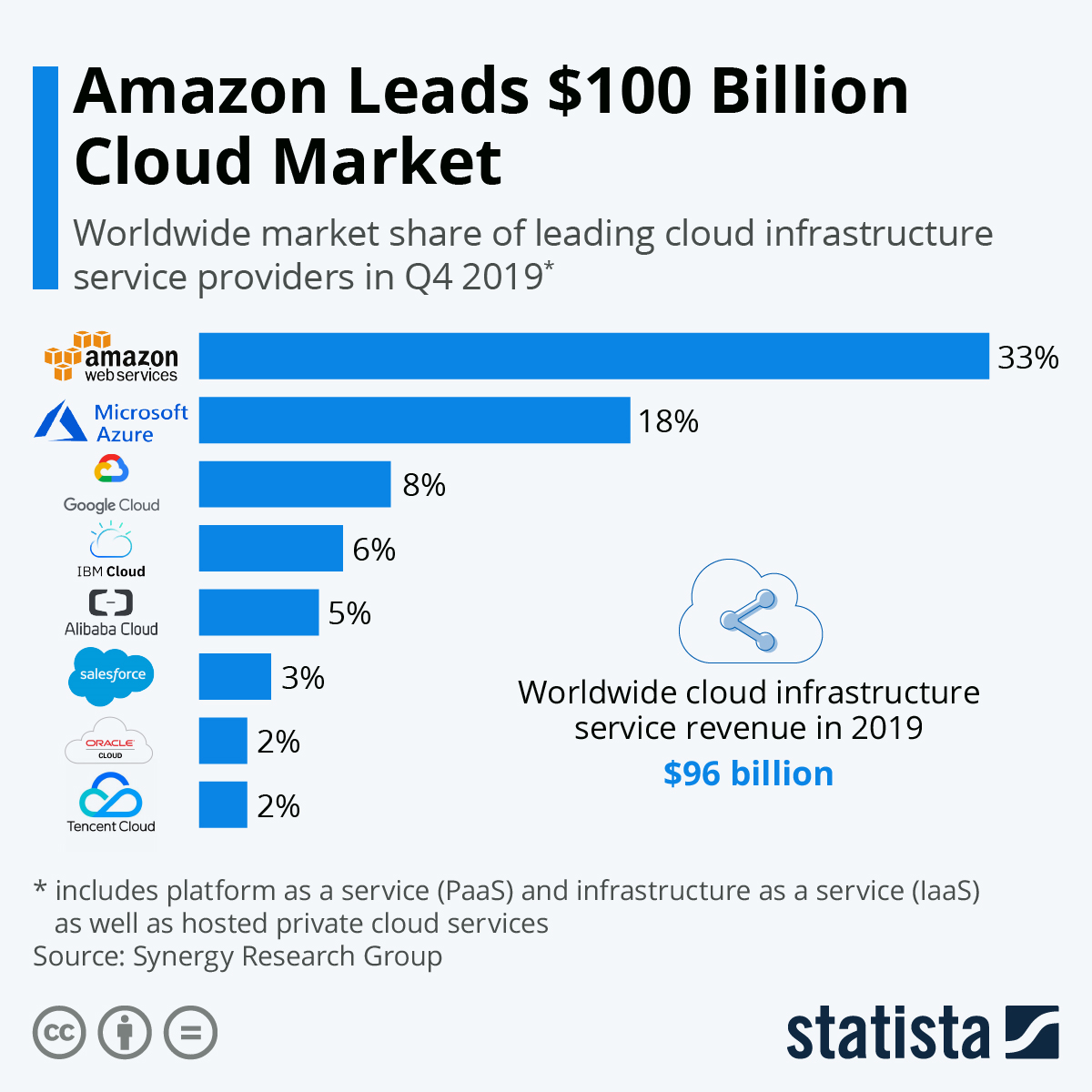 TTN runs on AWS…
Latest L-A Regional Parameters - cleared just before TTC2020 Amsterdam and triggered several supplier discussions wrt some of the new countries covered by e.g. amended AS923 sub plans
Overview:
RP2-1.0.1 LoRaWAN® Regional Parameters
File description(s)
RP002-1.0.1 has been released and includes two significant changes. First, the channel plan for AS923 has been augmented to support a large number of additional countries which support the characteristics of the band albeit in slightly different frequency ranges. The base plan remains unchanged, but we have added the ability to define a frequency offset which shifts the entire plan in frequency to accommodate these new regions. AS923-1 represents the original AS923 plan; AS923-2 shifts the plan down 1.8MHz to support Indonesia and Viet Nam ; AS923-3 shifts the plan down 6.6MHz to support Philippines , Cuba as well as many European and EU-style regulatory domain countries. Secondly, CN470-510 was updated in light of coming regulation changes impacting this band. Specifically a dwell time limit was introduced and channel bandwidth restrictions were relaxed.
Download: https://lora-alliance.org/sites/default/files/2020-02/rp_2-1.0.1.pdf
https://lora-alliance.org/resource-hub/rp2-101-lorawanr-regional-parameters
1st device in the new Semtech LoRa Edge Family announced - the LR1110 - combining LoRa TXR, WiFi sniffing and GloNaSS capability for GPS location + Crypto Engine. Targets Asset Management Apps.
Key Product Features:
Multi-Purpose Radio Front-End
150 - 2700 MHz continuous frequency synthesizer range
GPS/BeiDou scanning
Wi-Fi passive scanning

Low-Power LoRa/(G)FSK RF Transceiver
Worldwide frequency bands support in the range 150 – 960 MHz
High power PA path +22 dBm
High efficiency PA path +15 dBm
Fully compatible with the LoRaWAN® standard

Cryptographic Engine
Hardware support for AES-128 encryption/decryption based algorithms
Handling device parameters such as DevEUI and JoinEUI
Protects confidential information such as encryption keys
Stores NwkKey, AppKey, as defined in the LoRaWAN standard

Target Applications include:
Asset location
Asset recovery
Asset traceability
Inventory management
Asset loss and theft prevention

Housed in a 5mmx5mm package
Details here: https://www.semtech.com/products/wireless-rf/lora-transceivers/LR1110
In 2020 Espressif will launch 4 new chips
Espressif, the company known for ESP32 and ESP8266, announced that it will launch 4 new chips this year.
From Espressif CEO Letter 2020:
In 2020, we will be launching 4 new chips, covering different segments of the market, price points and performance. Our latest chips feature our new radio architecture that has lower power consumption while maintaining the same -40°C~125°C performance. The peripherals have been upgraded with highly sensitive capacitive touch IO's. Capacitive touch controls are now a staple of user interfaces because they are cost efficient; certain functions such as slider controls are better supported with capacitive touch than with analog implementations.
~1 Million miles? Now how resilient is your node/GW software update/remote maintenance regime again?


HEADS UP! Anyone using Lets Encrypt Certs ?- be advised in case you are one of the 3M+! (TTN/TTI Admins?)
Updated to reflect todays (5th March) decision to hold off process given ~half done and potential impact to stability of sections of the internet/www infrastructure…and fact LE Certs die/renew every 90 days by default hence many will eventually fade…
Energy monitoring and movement for retail refrigerators etc. (Energy consumption, tamper alarming and theft protection?)
Latest US network announcement… with added crypto mining on the gateway?! WTF!!!
Quote:
With Helium's own open-sourced blockchain technology, individuals are incentivized to deploy Helium Hotspots, which simultaneously mine cryptocurrency and provide LoRaWAN network coverage for hundreds of square miles
Interesting LPWAN growth projection per IHSMarkit (now called Omdia)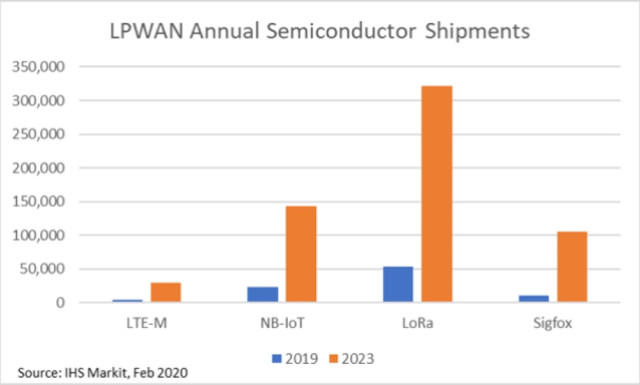 Looking good for LoRa/LoRaWAN
Hi @Jeff-UK, thanks for posting the projected shipments. Do you know what the Y-axis represents? 50,000 of LoRa in 2019. What's the ?? 50,000 might just be the number of gateway chipsets but seems far too low for sensor chipsets, etc. Or is it money and 50,000 is $50m??
Sorry, believe that is Ku radios hence ~50Mu/yr…focus would be on nodes vs gateways…
Latests (Q4) Semtech results out…predates major ramp/impact of Coronovirus but looks healthy, with LoRa/IoT a significant contributor
Semtech Corporation (Nasdaq: SMTC), a leading supplier of high performance analog and mixed-signal semiconductors and advanced algorithms, today reported unaudited financial results for its fourth quarter and fiscal year 2020, which ended January 26, 2020.
Highlights for the Fourth Quarter and Fiscal Year 2020
Q4 FY2020 net sales of $138.0 million, GAAP EPS of $0.04 and non-GAAP EPS of $0.40
FY2020 net sales of $547.5 million, GAAP EPS of $0.47 and non-GAAP EPS of $1.52
Cash flow from operations was $45.3 million, or 33% of net sales, in Q4 FY2020 and was $118.6 million, or 22% of net sales, in FY2020
Refinanced the prior credit facility with a new $600.0 million revolving credit facility
Repurchased 0.5 million shares for $27.6 million in Q4 FY2020 and 1.5 million shares for $70.2 million in FY2020
Per Mohan (CEO)-
"We delivered fiscal Q4 results at the upper end of our guidance and ended with a solid finish to a challenging year. In fiscal year 2020, we continued to invest in our disruptive product platforms while delivering strong operating cash flow and are very well positioned in our target markets including hyper scale data centers and 5G infrastructure, Internet Of Things (IOT) and mobile systems."
Another Asset Tracking use case variant:

Because of Corona in the Netherlands, all Universities have closed and moved to on-line classes. As a result of that my IOT students cannot benefit from the TTN coverage at our university. Therefore I have prepared 6 gateways to be issued to the project teams. Together with two TTN indoor gateways and a Microtik gateway (not on the picture) the students of my IoT class will be able to fill the gap in coverage at their house.
This way we do everything to finish the IOT class in 4 weeks!
Hate to see any company fail esp. in current economic circumstances but looks like 74 more lumps of space junk in play now… …though some may see a silver lining in that there could have been >600 lumps if they had progressed

https://uk.finance.yahoo.com/news/uk-satellite-startup-one-web-blames-coronavirus-as-it-files-for-bankruptcy-145527915.html
UK space startup OneWeb blames coronavirus as it files for bankruptcy protection in the US
OneWeb, the high-profile London-based satellite start-up, files for bankruptcy protection in the US. (OneWeb)