Based on the recent posts on this thread I took a look at the noc for my TTN GW - bought in December commissioned/installed Jan/Feb - delayed as I saw people had serious problems with none working GW's. As mine installed and worked fine OoTB i decided to leave well alone and had disabled auto updates.
When I look on noc however it shows:-
"The Things Gateway v1 - BL r1-7167873a (2017-06-02T13:48:18Z) - Firmware **v1.0.5-fa89b993 (2018-07-17**T08:11:52Z)"
Implying its been updated to v1.05 despite GW set up as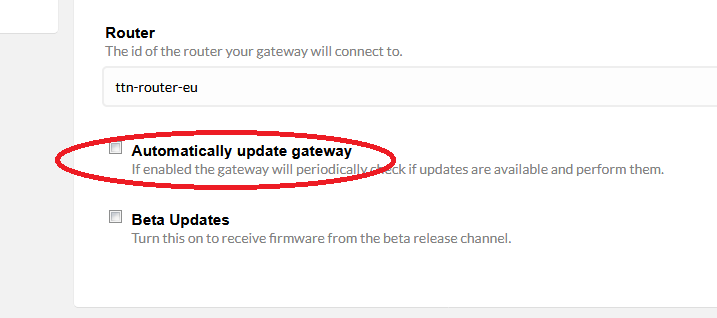 So either auto update opt out ignored or noc telling porkies!
GW has run fine since install despite a couple of power cuts to office and GW being relocated around UK a couple of times for pop-up tests…fortunately haven't had problems seen by others - so far…and hadn't seen any reboots that would imply it was updating…strange…
UPDATE:
Just checked things-gateway.local/info to see what GW status says and it shows

So clearly the autoupdate opt out has been ignored!