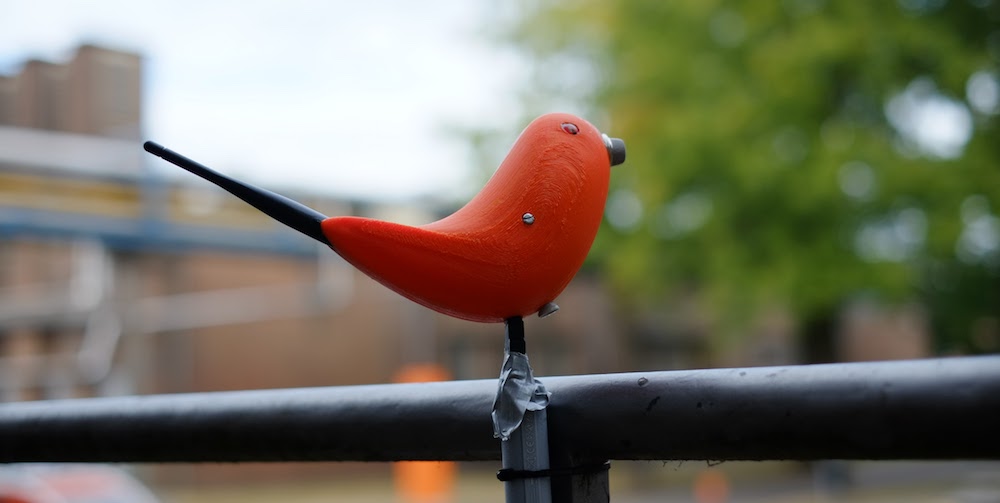 You may have spotted them on labs or even in real life: The beautiful orange birds of the Aelora project. This week I interviewed Dennis Geurts, Software Architect at Luminis and initiator of the Arnhem Community, to learn more about his project.
What brought you to do this project?
We created this project for the Dutch National Day of Science on October 1st. We wanted to join this day with a working demo of a good use case for long range networks. A very typical kind of use case for LoRa is to monitor an environment. You know the location - now you like to see what happens there.
You say "we" - Who was involved?
I created this project with 4 colleagues at Luminis: Me and Richard van der Laan did the software, Jacco Schouw the hardware and Ivo Domburg the design.
Tell us a bit about the birds?
We created 4 of them so far and they are relatively simple really. It's an Arduino Nano plus the same RN2483 LoRa module also found on upcoming The Things Node and Uno. We then added the cheapest dust particle sensor we could find. All this is wrapped in a beautiful 3D printed casing designed by Ivo. The external antenna is the bird's tail. The casing can simply be hooked up to a powerbank for now but we are contemplating some solar panels as wings.
We recently created this short video about the project and the day we presented it:
How did The Things Network enable this project?
Well, there wasn't any existing coverage where we did the demo, so we needed to bring a gateway on-site. But that's also one of the strengths of The Things Network. That gateway is there now and will stay there to cover all nodes up to about 3.5km away, thus covering about a third of Arnhem. If you don't have coverage, it's very simple and relatively cheap to help grow the network. Configuring a Kerlink or other Gateway is dead-simple and once you have it configured you can plug it into any ethernet to create a local long range LoRa network. And Nodes couldn't care less which Gateways picks up their messages, as long as there is one! All we needed to do is register our Application and Devices on The Things Network and it just works!
So what did you use the data for?
At the moment we have a server running that subscribes to the The Things Network MQTT broker and stores the data in Firebase. The website aelora.nl uses that data to plot the latest measured air quality on a map.
And a beautiful website it is!
Thank you. well, thank Ivo, he really helped us moving the message away from the technology and focus on what really matters: the air quality. That's also really the strength of such a multi-disciplinary team. Also, his design of the 3D printed birds even made people ask us if they were on sales somewhere!
What are your plans for Aelora?
Well, we'd love to turn this into an actual product, but at the moment time nor money is on our side. We have plenty of ideas to improve the reliability and durability of the birds and of course there's a lot more you could do with the data.
Any way The Things Network could have made it even easier?
Ideally The Things Network would be able to not only stream live data via MQTT but also store it, like we have now done ourselves. That would be awesome!
Well, then you will love the integration platform that we'll be launching as part of the production environment in the coming weeks! It will have one-click integrations for storage, webhooks and platforms like Amazon and Azure.
Terrific!
Any final thoughts?
When I discuss LoRa use cases with people I see that we often start with assumptions based on old technology. To really think of good use cases for IoT in general for example I think you need to assume that you will soon have hundreds or even thousands of devices in your homes and offices that cost little to nothing. Do you really care if some don't (always) work? Are you really going to change all those batteries all the time? Or even repair or update, respond to any device not responding once in a while? A lot of the problems we try to solve for IoT are not relevant at all if you look at it from that perspective. At the same time new, exciting use cases arise if you consider IoT our ears and eyes on countless places.
Thanks Dennis!
Don't miss this week's meetup and next week's webinar!
If you live near Arnhem, you definitely should join the first meetup of the Arnhem Community on Thursday December 15.
On Monday December 19th at 8 PM CET, Dennis will be one of our guests in a webinar titled "LoRa, what to do with it?". We will be discussing the unique characteristics of LoRa and typical use cases.