Friday, May 26, our second community gateway came online.
This gateway is adding indoor coverage to Apeldoorn North-East and will add redundancy to the coverage in Apeldoorn. This redundancy will incrase availabilty of The Things Network in Apeldooorn.
Installation
The antenna is installed at aproximately 65 meters and connected using a 14 meter low-loss coax cable to the gateway. The gateway is installed indoor due to site restrictions. Internet is obtained trough the existing 5 GHz link. The system is managed trough an OpenVPN solution.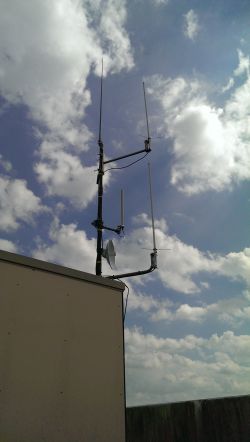 The gateway is monitored trough a LoRaWAN Node connected trough TTN. This node monitors all power supplies and temperarure in the cabinet.

Contributions
The gateway is located at the site of the Apeldoorn Repeater group who generously offered space in their antenna mast and equipment room.
The ILOC LoRaWAN gateway is sponsored by INCAA Computers