Hi all!.
I´m trying to make my first LoRa network. I have already a RPI Gateway configurated in the US band Frequency and running on TTN.
This is my Global_conf.json: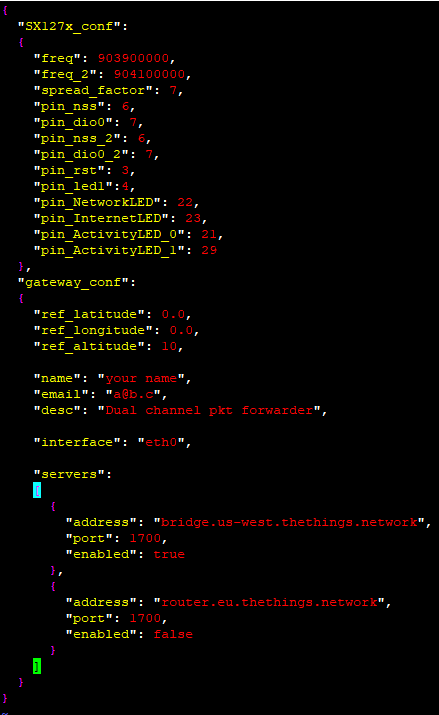 Now I'm trying to connect a node with a Feather M0 900 LoRa Board, I'm following this tutorial: https://github.com/marcuscbehrens/loralife
In summary, the changes I made were:
Change the SPI Clock Frequency in the HAL.cpp file:
static const SPISettings settings(8E6, MSBFIRST, SPI_MODE0);
Edit the Transceiver config.h (Uncomment the CFG_us915):
//

#define

CFG_eu868 1


#define

CFG_us915 1
In the ttn-abp example:
3.1 insert LMIC_setClockError(MAX_CLOCK_ERROR * 1 / 100); after the LMIC_reset(); in the setup function
3.2 change the pin settings as follow at the start of the application:

3.3 Copy the TTN network session key and the TTN app session key as "c-style" and with "msb".
3.4 Copy the TTN device address as hexadecimal string.
Finally, I uploaded the program.
But I don't get any messages on my TTN console, I dont know why.
If someone could help me, I would be very grateful.