Hi,
I'm newly born to the use of TTN (2 days old), I'm currently trying to connect a Feather m0 to some Gateways around myself (not owned). Using the TinyLora library and ABP Activation method I manage to connect to 2-3 gateways and receive the data properly both using a feather m0 and a 32u4 ( I tried this after I couldn't manage OTTA).
So as I stated already when I tried to connect my feather m0 following the Adafruit Tutorial using the
MCCI_LoRaWAN_LMIC library I was not able to connect. I've done some intensive research on the forum and found the following potential errors.
A jumper is indeed connected between pin io1 and pin 6 ( yes, 6, not 9)
I changed in the library project_config folder the definition to EU 868Hz ( I did this inside the library itself and not in the sketch as in https://www.thethingsnetwork.org/forum/t/solved-adafruit-feather-m0-to-connect-to-ttn-over-otaa-unknown-event-20/29990/16?u=grapetotheworld
I relaxed the timing as setClockError
Of course, checked If DeviceEui&Application EUI were lsb and Appkey as msb
So regarding TTN Application, it actually detects a joining attempt but no data comes through after it. As for the Arduino Serial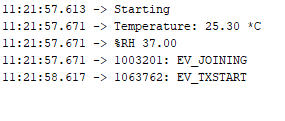 It apparently gets stuck and I have to turn off the Feather for it to respond again.
How else could I proceed? Is there any known issue I'm not addressing?
Any help would be appreciated, Thx!