Thank you, very helpful in choosing what ticket I want
I will not have the opportunity to go to the conference. Will there be conference recordings?
Only two weeks away. I have my flights and hotel booked. Looking forward to meeting y'all in Amsterdam. Please give me a holler if you want to discuss AgTech. Cheers, Reinier
Yes, very much so. Flag me down if you see me
Last year all Sessions off the main stage where recorded and later available on the internet. So be patient and looking forward to that. (last after few weeks)
I got some discount codes for active community members available.
Please send me a PM for more information and add in your message the community you're part of, and/or how you contribute to The Things Network.
Will there be a dedicated ferry connection again? The regular ferry pier is a 15 min walk away from the Kromhouthal (which might also be fine if the weather is appropriate
).
Below is some useful information about Amsterdam's public ferry and the metro:
Ferry line 902 IJplein
A slightly faster alternative with shorter walk is to take the metro:
Metro line 52 from Central Station to Noorderpark
Metro travel time 3 min.
Walk to venue 850 m, 11 min. see route on map
Need to buy ticket (2x one-way ticket €1.26)
Unless there is a direct ferry, I will take the metro.
FYI: I have added a list with useful links to the topic start.
Just for those not following the LinkedIn group: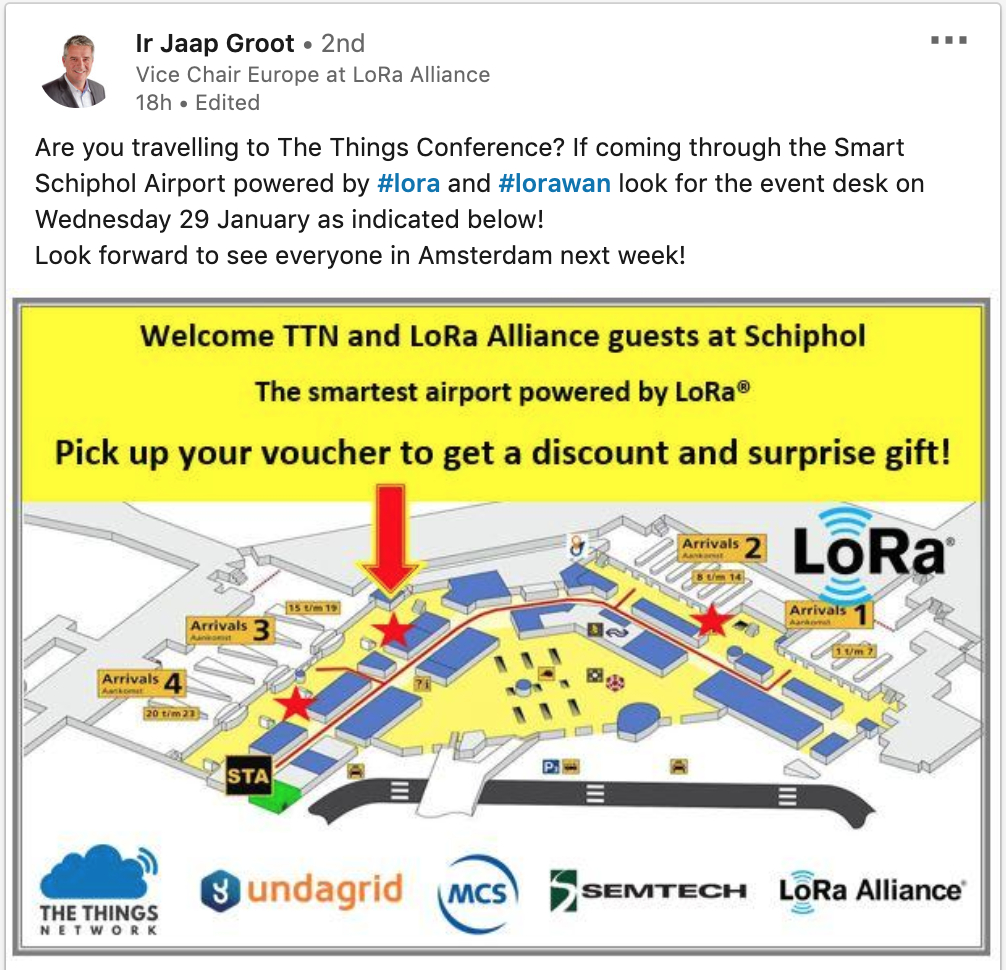 https://www.linkedin.com/posts/activity-6626505243700019200-6nbt
https://www.linkedin.com/events/largestgloballorawanconference-thethingsconference
Below the details to get to the conference venue (there won't be a dedicated ferry goes directly to the conference venue this year)
Metro – You can take the metro 52 from Amsterdam Central Station. When you exit the metro at Noorderpark station, it's a 15 minute walk to the conference. See route navigation.
Ferry – There are free ferries departing from the Amsterdam Central Train Station. Go to the river side and take the most eastern ferry to IJplein. After departing the ferry, it's a 20 minute walk to the venue. See route navigation
Bike – Amsterdam is the perfect city to travel by bike. The conference location is easily reachable by bike using the free ferry mentioned above. There are many bike rental options available, please see link or check with your accommodation.
Taxi/Uber – If you come by taxi or Uber, navigate to Gedempt Hamerkanaal 96, the conference venue is right across this address. There are NO parking spots available next to the conference venue.
Where is it again the link to register for the workshops? I cannot find it on my mailbox…
Guys, other than the circumstantial fact of initial flight from a couple of days ago heading in direction of The Netherlands & possibly close to the Conf in Amsterdam the last couple of days posts are totally off topic for the thread!
When I get a few mins over the weekend I will create another thread for you all on HAB & LoRaWAN tracking and link the posts to there before removing…
in the meantime if you have comments, news or feedback on the Conf knock yourselves out posting here
…and post any pictures here:

Lots got posted to twitter but Twitter is too transient and fast changing to provide an effective picture record for the event…
had just drifted down to office to start/do it!