Good morning all,
I am coming to you because for more than a week I have been trying to understand how I could use 2 SPI on my ESP32.
The VSPI is used by my RFM95
VSPI_MISO pin19 ESP32
VSPI_MOSI pin23 esp32
VSPI_SCLK pin18 esp32
VSPI_SS pin5 esp32
All is working perfectly on the lora part but When a want to use the HSPI for shift register nothing work.
HSPI MISO pin12 esp32
HSPI SCLK pin14 esp32.
When I just activate the HSPI part for the Shift register all is whorking perfect so the HPSI is working but when I enable the LMIC lora part I have an Failure:
15:18:13.001 → FAILURE
15:18:13.001 → C:\Users\cd06631\OneDrive-Deere&Co\OneDrive - Deere & Co\Documents\Arduino\libraries\arduino-lmic-master\src\lmic\oslmic.c:53

#include <lmic.h>
#include <hal/hal.h>
#include <Wire.h>
#include <SPI.h>

 

SPIClass SPI1(HSPI);
//SPIClass SPI(VSPI);

const int testLed = 13; //onboard LED
const int LATCH = 16; 



//Pins ESP32 wroom 
const byte powerGates1 = 2;
const byte powerGates2 = 17;


// supply control
//const int transistorPin = 16;

const int numberOfGates = 24; // 24 gates, 48 sensors
const int startGate = 0;  //useful for testing
const int endGate = 24;   //useful for testing
const int debeebounce = 30;
const int outputDelay = 20000;  //prints bee counts every 15 seconds
unsigned long lastOutput = 0;
unsigned long currentTime = 0;


//boolean 0 or 1 sensor readings, 1 bee is present
boolean inSensorReading[numberOfGates];
boolean outSensorReading[numberOfGates];

boolean lastInSensorReading[numberOfGates];
boolean lastOutSensorReading[numberOfGates];

boolean checkStateIn[numberOfGates];
boolean checkStateOut[numberOfGates];

int inCount[numberOfGates];
int outCount[numberOfGates];
  
unsigned long startInReadingTime[numberOfGates];
unsigned long startOutReadingTime[numberOfGates];

unsigned long inSensorTime[numberOfGates];
unsigned long outSensorTime[numberOfGates];
 
unsigned long lastInFinishedTime[numberOfGates];
unsigned long lastOutFinishedTime[numberOfGates];
  
unsigned long inReadingTimeHigh[numberOfGates];
unsigned long outReadingTimeHigh[numberOfGates];

unsigned long lastInTime[numberOfGates];
unsigned long lastOutTime[numberOfGates];

unsigned long lastInReadingTimeHigh[numberOfGates];
unsigned long lastOutReadingTimeHigh[numberOfGates];

int totalTimeTravelGoingOut[numberOfGates];
int totalTimeTravelGoingIn[numberOfGates];

int firstTestInVariable[numberOfGates];


int firstTestOutVariable[numberOfGates];

int totalsorti;
int totalentree;

int inTotal;
int outTotal;


int n = 0;



// For normal use, we require that you edit the sketch to replace FILLMEIN
// with values assigned by the TTN console. However, for regression tests,
// we want to be able to compile these scripts. The regression tests define
// COMPILE_REGRESSION_TEST, and in that case we define FILLMEIN to a non-
// working but innocuous value.

#ifdef COMPILE_REGRESSION_TEST
# define FILLMEIN 0
#else
# warning "You must replace the values marked FILLMEIN with real values from the TTN control panel!"
# define FILLMEIN (#dont edit this, edit the lines that use FILLMEIN)
#endif

// LoRaWAN NwkSKey, network session key
static const PROGMEM u1_t NWKSKEY[16] = {****************************************** };

// LoRaWAN AppSKey, application session key
static const u1_t PROGMEM APPSKEY[16] = { **************************************** };

// LoRaWAN end-device address (DevAddr)
// See http://thethingsnetwork.org/wiki/AddressSpace
// The library converts the address to network byte order as needed.
#ifndef COMPILE_REGRESSION_TEST
static const u4_t DEVADDR = 0x*********;

#else
static const u4_t DEVADDR = 0;
#endif

// These callbacks are only used in over-the-air activation, so they are
// left empty here (we cannot leave them out completely unless
// DISABLE_JOIN is set in arduino-lmic/project_config/lmic_project_config.h,
// otherwise the linker will complain).
void os_getArtEui (u1_t* buf) { }
void os_getDevEui (u1_t* buf) { }
void os_getDevKey (u1_t* buf) { }

// payload to send to TTN gateway
static uint8_t payload[3];
static osjob_t sendjob;

// Schedule TX every this many seconds (might become longer due to duty
// cycle limitations).
const unsigned TX_INTERVAL = 30;

// Pin mapping for Adafruit Feather M0 LoRa
const lmic_pinmap lmic_pins = {
  .nss = 5,
  .rxtx = LMIC_UNUSED_PIN,
  .rst = 13,
           // LBT cal for the Adafruit Feather M0 LoRa, in dB
      .dio = {27, 26, LMIC_UNUSED_PIN},
     //   .dio = {27, LMIC_UNUSED_PIN, LMIC_UNUSED_PIN},
    
};


void onEvent (ev_t ev) {
    Serial.print(os_getTime());
    Serial.print(": ");
    switch(ev) {
        case EV_SCAN_TIMEOUT:
            Serial.println(F("EV_SCAN_TIMEOUT"));
            break;
        case EV_BEACON_FOUND:
            Serial.println(F("EV_BEACON_FOUND"));
            break;
        case EV_BEACON_MISSED:
            Serial.println(F("EV_BEACON_MISSED"));
            break;
        case EV_BEACON_TRACKED:
            Serial.println(F("EV_BEACON_TRACKED"));
            break;
        case EV_JOINING:
            Serial.println(F("EV_JOINING"));
            break;
        case EV_JOINED:
            Serial.println(F("EV_JOINED"));
            break;
        /*
        || This event is defined but not used in the code. No
        || point in wasting codespace on it.
        ||
        || case EV_RFU1:
        ||     Serial.println(F("EV_RFU1"));
        ||     break;
        */
        case EV_JOIN_FAILED:
            Serial.println(F("EV_JOIN_FAILED"));
            break;
        case EV_REJOIN_FAILED:
            Serial.println(F("EV_REJOIN_FAILED"));
            break;
        case EV_TXCOMPLETE:
            Serial.println(F("EV_TXCOMPLETE (includes waiting for RX windows)"));
            if (LMIC.txrxFlags & TXRX_ACK)
              Serial.println(F("Received ack"));
            if (LMIC.dataLen) {
              Serial.println(F("Received "));
              Serial.println(LMIC.dataLen);
              Serial.println(F(" bytes of payload"));
            }
            // Schedule next transmission
//             digitalWrite (transistorPin, LOW);
        //     Deep_Sleep_Now();
           // os_setTimedCallback(&sendjob, os_getTime()+sec2osticks(TX_INTERVAL), do_send);
            break;
        case EV_LOST_TSYNC:
            Serial.println(F("EV_LOST_TSYNC"));
            break;
        case EV_RESET:
            Serial.println(F("EV_RESET"));
            break;
        case EV_RXCOMPLETE:
            // data received in ping slot
            Serial.println(F("EV_RXCOMPLETE"));
            break;
        case EV_LINK_DEAD:
            Serial.println(F("EV_LINK_DEAD"));
            break;
        case EV_LINK_ALIVE:
            Serial.println(F("EV_LINK_ALIVE"));
            break;
        /*
        || This event is defined but not used in the code. No
        || point in wasting codespace on it.
        ||
        || case EV_SCAN_FOUND:
        ||    Serial.println(F("EV_SCAN_FOUND"));
        ||    break;
        */
        case EV_TXSTART:
            Serial.println(F("EV_TXSTART"));
            break;
        default:
            Serial.print(F("Unknown event: "));
            Serial.println((unsigned) ev);
            break;
    }
}

void do_send(osjob_t* j){
    // Check if there is not a current TX/RX job running
    
    if (LMIC.opmode & OP_TXRXPEND) {
        Serial.println(F("OP_TXRXPEND, not sending"));
    } else {

  Serial.print("T, ");
  Serial.print(outTotal);
  Serial.print(", ");
  Serial.println(inTotal);
       

             
int16_t outtotalInt = outTotal * 100; // convert to signed 16 bits integer: 0x0929
int16_t intotalInt = inTotal * 100;


uint8_t buffer[4]; // reserve 2 bytes in memory

// Handle high byte (MSB) first; 0x09 for 23.45
// 0x0929 >> 8 shifts the 0x29 out of memory, leaving 0x0009
// 0x0009 does not fit in a single byte, so only 0x09 is stored in buffer[0]:
buffer[0] = outtotalInt >> 8;
buffer[1] = outtotalInt;
buffer[2] = intotalInt >> 8;
buffer[3] = intotalInt;



// Send on port 1, without asking for confirmation:
LMIC_setTxData2(1, buffer, sizeof(buffer), 0); // 0x0929 for 23.45
        Serial.println(F("Packet queued"));
    }
  
    // Next TX is scheduled after TX_COMPLETE event.
}



void setup ()
{
   

  SPI1.begin();
  SPI1.beginTransaction(SPISettings(3000000, MSBFIRST, SPI_MODE2));



 //pinMode (transistorPin, OUTPUT);
   // digitalWrite (transistorPin, HIGH);
    delay(1000);
    Serial.println(F("Starting"));
  
  delay(4000);
  while (!Serial); 
  Serial.begin (115200);
  Serial.println ("Begin switch test.");
  pinMode (LATCH, OUTPUT);
  digitalWrite (LATCH, HIGH);

  pinMode (powerGates1, OUTPUT);
 digitalWrite(powerGates1, LOW);
 pinMode (powerGates2, OUTPUT);
 digitalWrite(powerGates2, LOW);

  //pinMode(testLed, OUTPUT);


 // LMIC init
   os_init();
    // Reset the MAC state. Session and pending data transfers will be discarded.
  LMIC_reset();

    // Set static session parameters. Instead of dynamically establishing a session
    // by joining the network, precomputed session parameters are be provided.
    // On AVR, these values are stored in flash and only copied to RAM
    // once. Copy them to a temporary buffer here, LMIC_setSession will
    // copy them into a buffer of its own again.
    uint8_t appskey[sizeof(APPSKEY)];
    uint8_t nwkskey[sizeof(NWKSKEY)];
    memcpy_P(appskey, APPSKEY, sizeof(APPSKEY));
    memcpy_P(nwkskey, NWKSKEY, sizeof(NWKSKEY));
    LMIC_setSession (0x13, DEVADDR, nwkskey, appskey);
    
   #if defined(CFG_eu868) // EU channel setup
  int channel = 0;
   int dr = DR_SF7;
   for(int i=0; i<9; i++) { 
     if(i != channel) {
       LMIC_disableChannel(i);
     }
   }
   // Set data rate (SF) and transmit power for uplink
   LMIC_setDrTxpow(dr, 14);    // g-band
#elif defined(CFG_us915) // US channel setup
  // Instead of using selectSubBand, which will cycle through a sub-band of 8
  // channels. We'll configure the device to only use one frequency.
  // First disable all sub-bands
  for (int b = 0; b < 8; ++b) {
    LMIC_disableSubBand(b);
  }
  // Then enable the channel(s) you want to use
  //LMIC_enableChannel(8); // 903.9 MHz
  LMIC_enableChannel(17);
#endif
    // Disable link check validation
    LMIC_setLinkCheckMode(0);

    // TTN uses SF9 for its RX2 window.
    LMIC.dn2Dr = DR_SF9;

    // Set data rate and transmit power for uplink
    LMIC_setDrTxpow(DR_SF7,14);

    // Start job
    do_send(&sendjob);
    
    
}

  


byte switchBank1;
byte oldSwitchBank1; 
byte switchBank2;
byte oldSwitchBank2; 
byte switchBank3;
byte oldSwitchBank3; 
byte switchBank4;
byte oldSwitchBank4; 
byte switchBank5;
byte oldSwitchBank5; 
byte switchBank6;
byte oldSwitchBank6; 
byte switchBank7;
byte oldSwitchBank7; 
byte switchBank8;
byte oldSwitchBank8; 

void loop ()
{
   os_runloop_once(); 
//beeProgram();

}

 void beeProgram() {
  currentTime = millis();  
  
  digitalWrite(powerGates1, HIGH);
  digitalWrite(powerGates2, HIGH);
  delayMicroseconds(75); //first 24 gates only need 15us while gates closer to the end need ~40us-75us
  
  digitalWrite (LATCH, LOW);    // pulse the parallel load latch
  delayMicroseconds(3);
  digitalWrite (LATCH, HIGH);

  delayMicroseconds(3);
  
  digitalWrite(powerGates1, LOW);
  digitalWrite(powerGates2, LOW);

  //Reading 24 bits at 1Mhz should take about 24 microseconds,
  //reading 24 bits at 3Mhz should take about 8us
  //reading 48 bits at 3Mhz should take abotu 16us
  switchBank1 = SPI1.transfer (0); //8
  switchBank2 = SPI1.transfer (0); //16
  switchBank3 = SPI1.transfer (0); //24
  switchBank4 = SPI1.transfer (0); //32
  switchBank5 = SPI1.transfer (0); //40
  switchBank6 = SPI1.transfer (0); //48  
  
 
  
  if(switchBank1 != oldSwitchBank1 || switchBank2 != oldSwitchBank2 || switchBank3 != oldSwitchBank3 || switchBank4 != oldSwitchBank4 || switchBank5 != oldSwitchBank5 || switchBank6 != oldSwitchBank6)
  {
    //convert bytes to gate values
    int gate = 0;
    for(int i = 0; i < 8; i++)
    {
      if((switchBank1 >> i) & 1)
          outSensorReading[gate] = HIGH;
      else outSensorReading[gate] = LOW;
      i++;
      if((switchBank1 >> i) & 1)
          inSensorReading[gate] = HIGH;
      else inSensorReading[gate] = LOW;       
      gate++;  
    }
    for(int i = 0; i < 8; i++)
    {
      if((switchBank2 >> i) & 1)
          outSensorReading[gate] = HIGH;
      else outSensorReading[gate] = LOW;
      i++;
      if((switchBank2 >> i) & 1)
          inSensorReading[gate] = HIGH;
      else inSensorReading[gate] = LOW;      
      gate++;  
    }
    for(int i = 0; i < 8; i++)
    {
      if((switchBank3 >> i) & 1)
          outSensorReading[gate] = HIGH;
      else outSensorReading[gate] = LOW;
      i++;
      if((switchBank3 >> i) & 1)
          inSensorReading[gate] = HIGH;
      else inSensorReading[gate] = LOW;       
      gate++;  
    }
    for(int i = 0; i < 8; i++)
    {
      if((switchBank4 >> i) & 1)
          outSensorReading[gate] = HIGH;
      else outSensorReading[gate] = LOW;
      i++;
      if((switchBank4 >> i) & 1)
          inSensorReading[gate] = HIGH;
      else inSensorReading[gate] = LOW;       
      gate++;  
    }
    for(int i = 0; i < 8; i++)
    {
      if((switchBank5 >> i) & 1)
          outSensorReading[gate] = HIGH;
      else outSensorReading[gate] = LOW;
      i++;
      if((switchBank5 >> i) & 1)
          inSensorReading[gate] = HIGH;
      else inSensorReading[gate] = LOW;       
      gate++;  
    }
    for(int i = 0; i < 8; i++)
    {
      if((switchBank6 >> i) & 1)
          outSensorReading[gate] = HIGH;
      else outSensorReading[gate] = LOW;
      i++;
      if((switchBank6 >> i) & 1)
          inSensorReading[gate] = HIGH;
      else inSensorReading[gate] = LOW;      
      gate++;  
    }  
    oldSwitchBank1 = switchBank1;
    oldSwitchBank2 = switchBank2;
    oldSwitchBank3 = switchBank3;
    oldSwitchBank4 = switchBank4;
    oldSwitchBank5 = switchBank5;
    oldSwitchBank6 = switchBank6;
  }

  for (int i = startGate; i < endGate; i++) 
  { 
    if(inSensorReading[i] == HIGH || outSensorReading[i] == HIGH) 
    {
      digitalWrite(testLed, HIGH);
      break;
    }
    digitalWrite(testLed, LOW);
  }

  
  for (int i = startGate; i < endGate; i++) 
  //for (int i = 8; i < 12; i++)
  { 
    if(inSensorReading[i] != lastInSensorReading[i])  //change of state on IN sensor
    { 
      checkStateIn[i] = 0;
      lastInSensorReading[i] = inSensorReading[i];
      inSensorTime[i] = currentTime;
      //Serial.print(i);
      //Serial.print(", ");
      //Serial.println(inSensorReading[i]);
    } 
    if(outSensorReading[i] != lastOutSensorReading[i])  //change of state on OUT sensor
    { 
      checkStateOut[i] = 0;
      lastOutSensorReading[i] = outSensorReading[i];
      outSensorTime[i] = currentTime;
      //Serial.print(i);
      //Serial.print(", ");
      //Serial.println(outSensorReading[i]);
    }       
    if(currentTime - inSensorTime[i] > debeebounce && checkStateIn[i] == 0)  //debounce IN sensor
    {
      checkStateIn[i] = 1; //passed debounce         
      //Serial.print(i);
      //Serial.print(", IN sensor - high_or_low: ");
      //Serial.println(inSensorReading[i]);
      if(inSensorReading[i] == HIGH) //a bee just entered the sensor
      {
        startInReadingTime[i] = currentTime;
        //Serial.print(i);
        //Serial.print(", I ,");
        //Serial.println(currentTime);
      }
      if(inSensorReading[i] == LOW)  //a bee just exits the sensor; that is, it was HIGH, now it is LOW (empty)
      {  
        lastInFinishedTime[i] = currentTime;            
        inReadingTimeHigh[i] = currentTime - startInReadingTime[i]; //this variable is how long the bee was present for
        Serial.print(i);
        Serial.print(", IT ,");
        Serial.print(inReadingTimeHigh[i]);
        Serial.print(", ");    
        if(outReadingTimeHigh[i] < 650 && inReadingTimeHigh[i] < 650){ //should be less than 650ms
          if(currentTime - lastOutFinishedTime[i] < 200){ //the sensors are pretty cose together so the time it takes to trigger on and then the other should be small.. ~200ms
            inTotal++;
            Serial.print(currentTime);
            Serial.print(",");
            Serial.println(1);
          }else{
            Serial.println(currentTime);
          }
        }else{
          Serial.println(currentTime);
        }
      }           
    }
    if(currentTime - outSensorTime[i] > debeebounce && checkStateOut[i] == 0)  //debounce OUT sensor
    {
      checkStateOut[i] = 1; //passed debounce         
      //Serial.print(i);
      //Serial.print(", IN sensor - high_or_low: ");
      //Serial.println(outSensorReading[i]);
      if(outSensorReading[i] == HIGH) //a bee just entered the sensor
      {
        startOutReadingTime[i] = currentTime;
        //Serial.print(i);
        //Serial.print(", O ,");
        //Serial.println(currentTime);
      }
      if(outSensorReading[i] == LOW)  //a bee just exits the sensor; that is, it was HIGH, now it is LOW (empty)
      {  
        lastOutFinishedTime[i] = currentTime;            
        outReadingTimeHigh[i] = currentTime - startOutReadingTime[i]; //this variable is how long the bee was present for
        Serial.print(i);
        Serial.print(", OT ,");
        Serial.print(outReadingTimeHigh[i]);
        Serial.print(", ");        
        if(outReadingTimeHigh[i] < 600 && inReadingTimeHigh[i] < 600){ //should be less than 600ms
          if(currentTime - lastInFinishedTime[i] < 200){ //the sensors are pretty cose together so this time should be small
            outTotal++;
            Serial.print(currentTime);
            Serial.print(",");
            Serial.println(1);
          }else{
            Serial.println(currentTime);
          }
        }else{
          Serial.println(currentTime);
        }
      }          
    }        
  }    

  delay (15);   // debounce

  if (currentTime - lastOutput > outputDelay) 
    {
    //Serial.println("sending data");
   
    sendData(); 


     
    lastOutput = currentTime; 

   
    
    inTotal = 0;
    outTotal = 0; 
  }
}
      

void sendData() {
  
  Serial.print("T, ");
  Serial.print(outTotal);
  Serial.print(", ");
  Serial.println(inTotal);
  
 
// over wifi or ethernet or serial
}

I don't Know how to declare the 2 SPI with the LMIC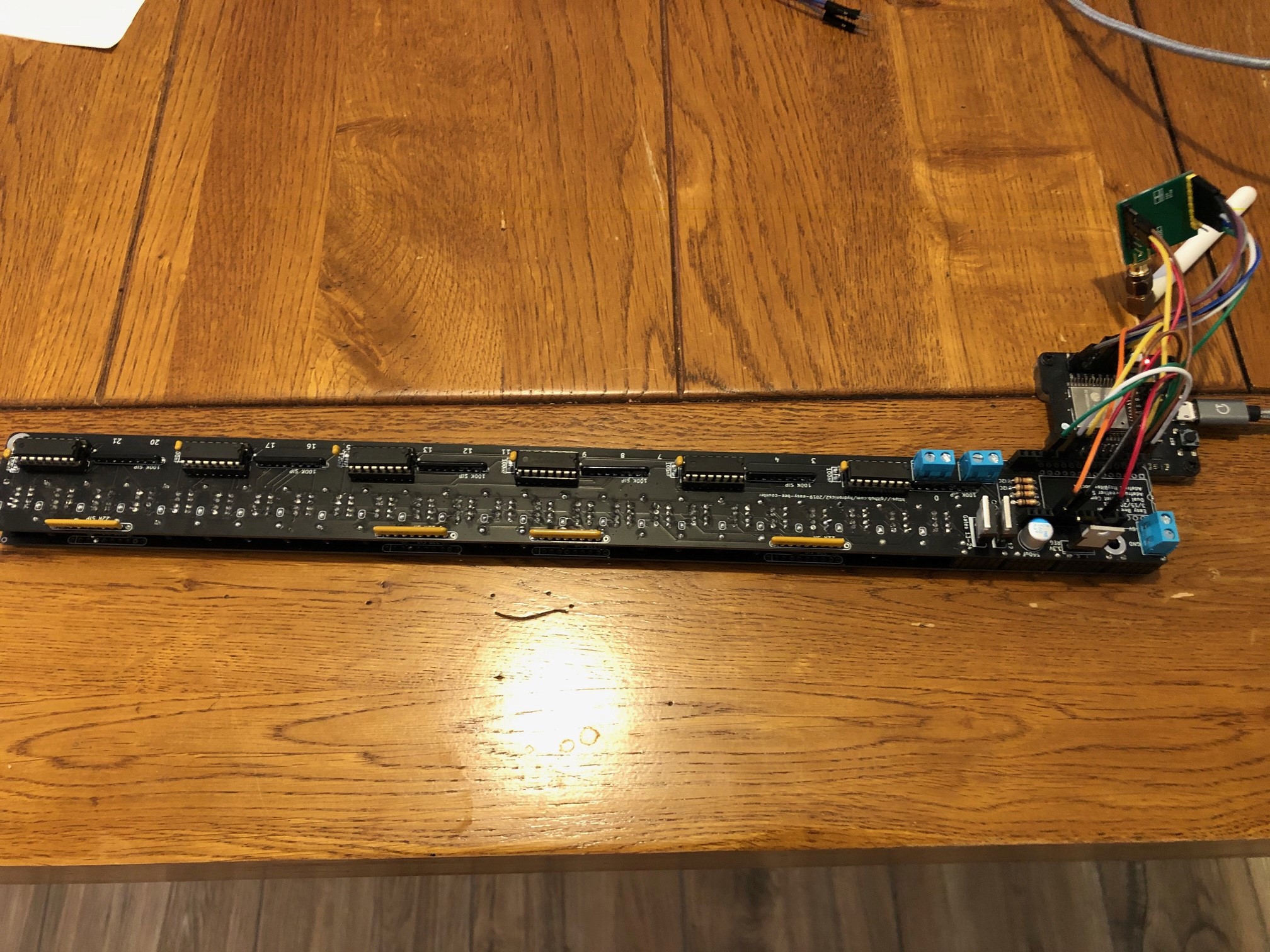 Many thanks for your help

christophe