I think I can.

I learned today that there exist tools for manual insertion/removal of I-PEX MHF connectors.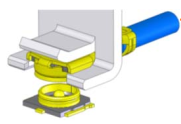 This brochure Accessories_for_MHF_series.pdf (73.9 KB) and this drawing 90224C0(MHF).pdf (234.3 KB) show a version (90224-001) for both insertion and removal.
But I can't find a source where the 90224-001 is available.
This one (90192-001) is suitable for removal only.