Hello to everyone!


I'm developing LoRa node board which I named Butterfly.
It is based on ATMega328 microprocessor (same as Arduino Mini Pro) and have RTC on itself. Idea is to have board that is great for low power testing, and great for debugging. Because of that, there would be power switches for LoRa module and RTC (DS3231 chip) so you can turn it on/off when you want. If you don't need none of that you can turn of both and use this board as you used Arduino Mini Pro.
Also, there is transistor as switch if you want to regulate work of LoRa module (RFM95W) with it. When you give signal from digital pin, it will turn on or off. If you don't want use transistor, I left jumper in parallel so you can connect it directly to VCC.
There are two more transistors if you want to control powering of some power-hungry sensor because it is recommended at ATMega328 to not pull more than 50mA from digital pin. Some sensors take more than 100mA (air quality sensor, soil moisture, GPS).
RTC is based on DS3231 chip and can be used for setting alarm for wakeup time of board. It is connected to D2 pin so you can interupt microprocessor. It is great if you want change wake up intervals from distance. It is possible with downlink messages from TTN server.
There is no LEDs except one signal LED.
I left 2 input pins for powering board (VCC pins). One is recommended to use with up to 3.7V (D size battery for example). And other is XH battery pin which can be connected to MCP1700-300 voltage regulator (if you use LiPo batteries which are on 4.2V when fully charged). If you won't use voltage bigger than 3.7V, you can take out voltage regulator and connect that XH battery pin with jumper directly to VCC pin.
Everything will be programmed with USB programmator.
Size of board is 62mm*40mm (size of D size battery or 26650 size battery).
This is Butterfly v2.0 board. I already tested this features on v1.0 and everything worked, but now I made some improvements and waiting for new board to test it.
Power consumption goes down to 10uA with LowPower library.
Here you can see board design. All comments are wellcome!


And if you have any suggestions or advices, I will be happy to hear.
And stay tuned…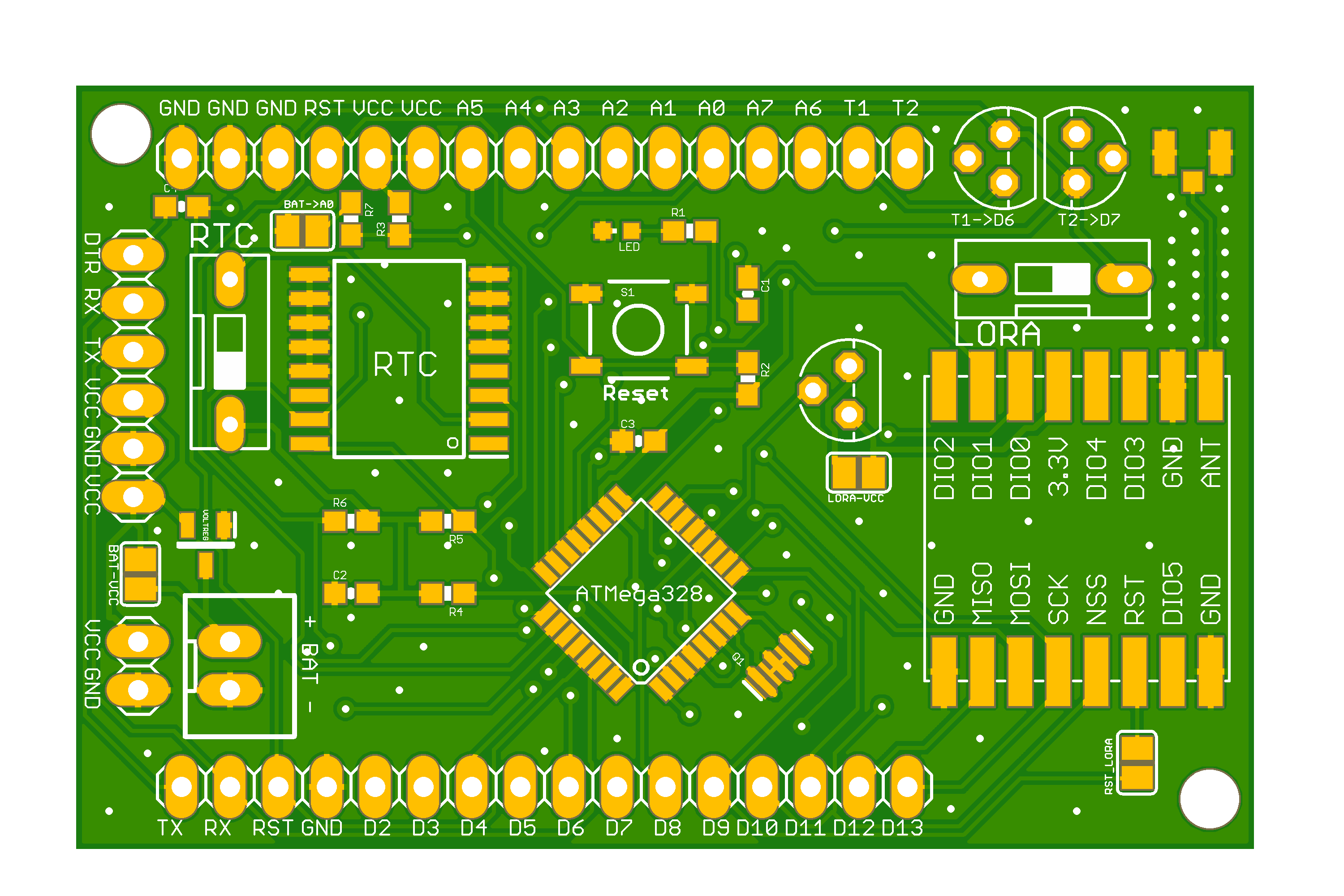 I made some kind of 3D preview but didn't have time to find 3D model of every component.