Dear all,
Recently I've been trying to get a TTIG up-and-running that we had laying around the office.
I followed the instructions, claimed the gateway, connected it to Wi-Fi and poof: the LED on the TTIG keeps blinking fast.
From what I've read is that it means that it is trying to connect to the LNS.
So, to make sure the firewall isn't a problem I opened all ports that I could find that are related to the TTIG, tried multiple different Wi-Fi networks (behind different routers), but still the same problem.
I resetted it multiple times, but still same result.
Now the weird part comes in.
In the front-end, when I navigate to the gateway the Gateway EUI is listed as N/A: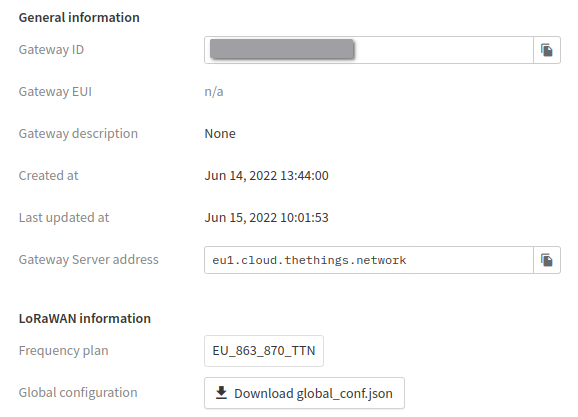 So, in my curiousity, I tried to claim it again and guess what? I now have two listed gateways with Gateway EUI N/A.
Both are claimed with the same credentials.
So now my question:
Does anyone know how I can get my TTIG to work?
Thanks in advance.
With kind regards,
Sander van Leeuwen
---
GW info from the CONF page:
Gateway EUI: 58-A0-CB-FF-FE-80-2E-65
WiFi AP MAC: 58:A0:CB:80:2E:65
WiFi AP Pass: -----------
WiFi STA MAC: DC:4F:22:64:8C:7F
Serial Number: TBMH100868008643
MFG date: 2020-03-19 01:56:19
FW Build: 2020-05-07 16:03:53
FW Version: 2.0.4
Core Version: 2.0.4(minihub/debug)