I've become accustomed to LoRa reception being more or less line of sight at 868 Mhz and websites like https://www.heywhatsthat.com/ being very useful to get an idea of the potential coverage area from a gateway. At least that gives a clear indication where I cannot possibly get a signal.
Or does it?
I've been perplexed by some recent TTN-Mapper "wardriving" where I consistently get a solid signal in what should be a null zone around 2 km from the gateway. Cue picture:
In the above picture the gateway is on the left and the node is on the right, distance 2325m, node is estimated to be about 10m lower than the gateway's antenna, hill is close to node.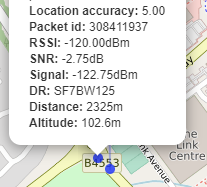 Why does this work? The hill around 2 km from the gateway should completely mask the node.
The Fresnel zone is probably 50% obstructed.
I wouldn't expect defraction going on at UHF and it's definitely not Tropo because the communication can be reproduced anytime. Perhaps the signal is getting bounced off a building?
Or is it possible that the hilltop itself is causing the wave to bend?
Do others see situations like this?
It might make me look at my gateway's coverage area in a new light if I get to understand the parameters that may be causing this "anomaly".
Thoughts anyone?