Hello there,
I like to share my tiny LoRa node, build around RFM95W and an ATmega328PB. There is a tiny 1.1" ePaper display attached which can be used to visualize locally generated sensor data or downloaded IoT messages. The node is powered by two little solar cells, the harvested energy is stored in a 1.5F supercap. I spend some time on minimizing the code size and energy footprint for the system, it consumes now 2.1µA in deep sleep and the ePaper screen uses only ~50% less energy compared to its default settings.
Hardware specification:
MCU: ATmega328pb (16MHz, 32KB FLASH, 2KB SRAM)
LoRa Chip: RFM95W, Antenna EU_863_870 or u.FL connector for external antenna
Flash: Winbond W25X40Cl, 4Mbit
Deep Sleep: 2.4uA
PV cells: IXYS SLMD121H04L
Energy-harvesting PMIC: E-Peas AEM10941 w/ MPPT
Storage device: EDLC supercap 1.5F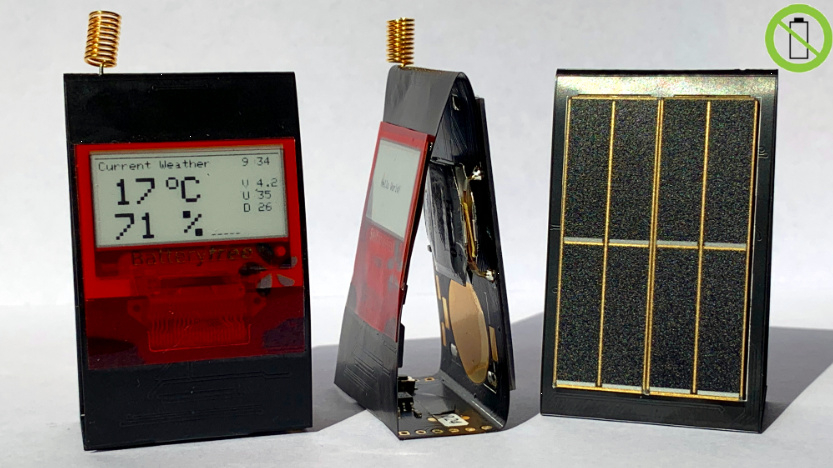 Example Local weather forecast:
At Github there is a reference demo available which shows the weather forecast (rain probaility) for the next hours for given geo-coordinates. The data is requested bi-hourly through openweathermap.org and a Node-RED flow for extracting the relevant data.
Its possible to use this sketch as starting point to integrate your own ideas. There are also GPIOs exposed to attach e.g. SPI-based sensors… however the limited SRAM size should be kept in mind!

The general idea is to harvest enough energy through the day to run around the clock with a bi-hourly refresh rate to achieve a sustainable, autark system without coin cells etc. That works for my window desk now reliably even for a rainy week and although the days are short since we are close to winter solstice. Now I am moving the node further into the room so that its seeing less daylight and more LED indoor lights which will become more tough I guess
Here a snapshot from last week (usable voltage range is between 4.5V and 3.8V):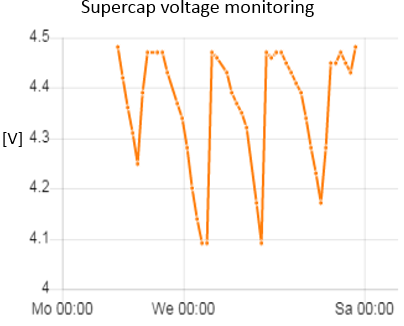 More infos can be found at Github, Hackster, Twitter or Tindie.
If you have ideas for improvement or application I would be very interested!
Thanks & Kind regards,
Robert