idd…
Anyway…I found this topic and looks like it's the same controller…
and you can buy them cheaper
cool

UBLOX NINA B-1
Nice, but unrelated to TTN LoraWan. Except for the the fact that LoraWan devices probably won't shrink to this level?
not 'unrelated' in my mind
Bluetooth is unrelated to the LoraWan protocol if I understood things correctly. If not please enlighten me.
LoRaWAN needs nodes, 'smart' nodes have BLE, you are playing moderator in a node topic (and not for the first time… very annoying imho)
So a house would need one LoRaWan node (the local gateway) to send to the cloud, all other sensor nodes in the house would use ble to send their data to the "gateway" node.
"NINA-B1 is a fully certified Bluetooth low energy module with excellent RF capabilities. The open architecture approach to software development from ARM mbed speeds up the IoT application development, thus greatly reducing the time to market and the related costs,"
Additional sensors and ancillary devices such as accelerometers and LED's can be directly connected in a variety of ways. These include GPIO, ADC, I2C, SPI and UART interfaces for complete compatibility. U-blox also took the consideration to offer the NINA-B1 in two different sizes: the B112 which is 10mm x 12mm and the B111 which is 10mm x 10mm.
very interesting lowpower processor , BLE and I/O as a base voor nodes.
I can imagine a 'domestic BLE/TTN interface' wich can communicate on one side with this type of BLE nodes and on the other side is connected (wifi/wired) to TTN.
or use it as a controller for a connected SX or RN LoRa chip, then you have as bonus the BLE connectivity, so you can set for example, a temperature alarm level for a node through your phone+app.
Not sure how this BLE relates to LoRa as the LoRa Gateways are intended as the hub for hundreds or thousands of LoRa nodes which forms the 'last mile' of connectivity for sensors.
What your suggesting is a BLE gateway for TTN?
I am not suggesting anything above… just mentioned a new kid on the IOT block and how this could be of possible use for electronic 'NODE' designers and not 'off the shelf buyers'.
Again, the NINA-B1 is a processor ! not a TTN gateway
So say goodbye to the arduino's and teensy's of this world.
A combination of different technologies in a 'node' is not entirely new:

How is your progress on this PIR solution? I need this!
slow
(also due to the fact that for the last months I've had serious health problems)
I've been researching and testing LoRaWAN past few months. After some testing I also developed my own fully Arduino compatible LoRaWAN node (Atmega1284p + RFM95W + LMIC stack). The module has more than enough program memory, SMA + U.FL antenna connectors, the pins are breadboard compatible for easy prototyping and dimensions are only 41 x 23 mm! Testing with my LoRaWAN GPS tracker revealed the range goes up to 18.6 km.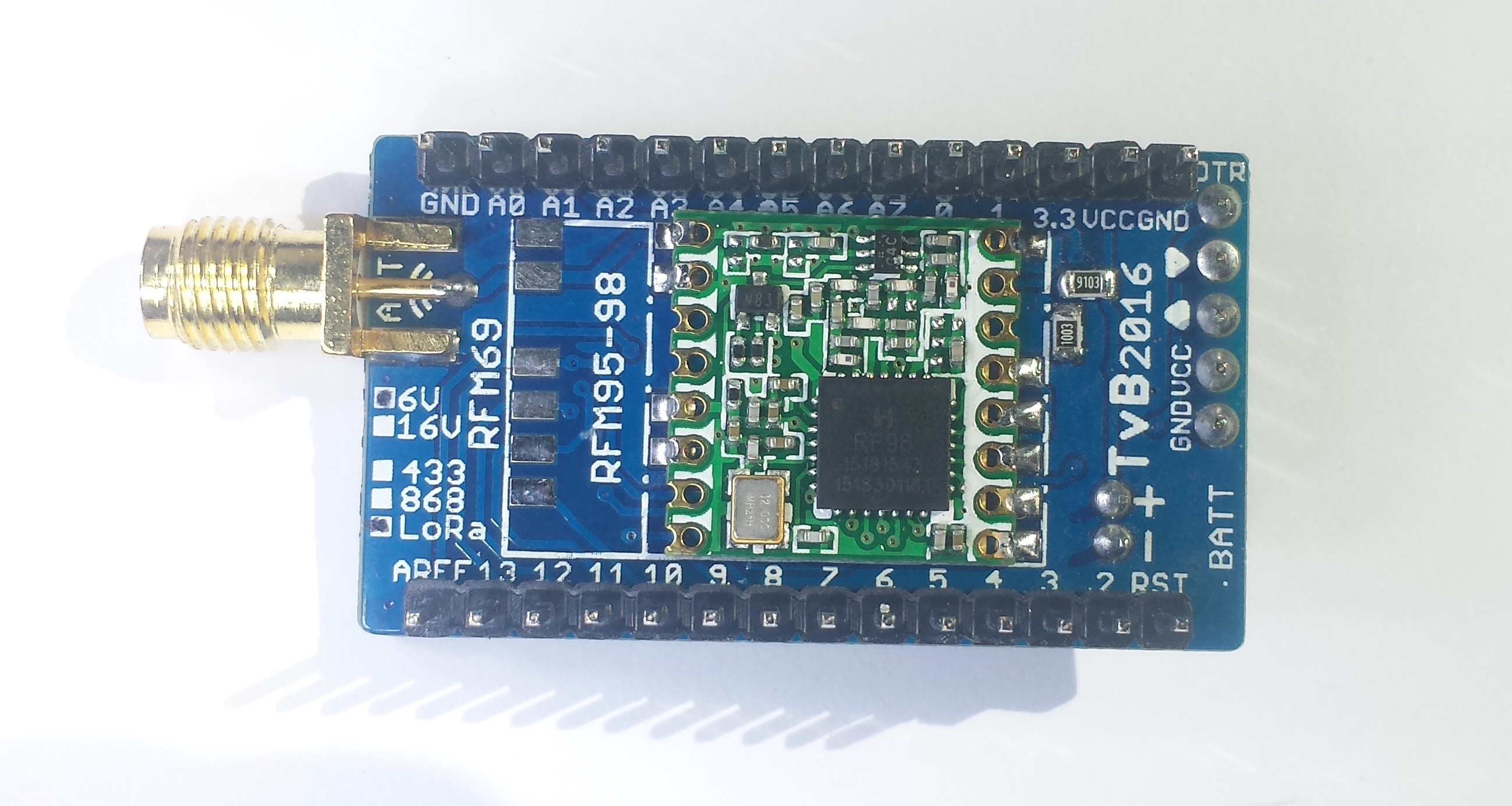 I think it's just a great, ready-to-use module for hobbyists and developers. Right?
I can provide 3 options to provide this module for those interested, please PM.
Bare PCB, no components, only documentation
Complete PCB (without tranceiver) about €15
Complete PCB with RFM95W about €30
The hardware is programmed in Arduino with an FTDI of CP2102 usb to serial converter. Included custom board & library for Arduino IDE. More tech info: https://eth0maz.wordpress.com/2016/05/27/lorawan-iot-node/
I don't think there are other options for such a powerful LoRaWAN node for a relative low price.
Sounds great! I think I'm not te only one here who was waiting for such a device. Well done!!
p.s Handy antenna solution

Thanks, i'm considering selling these as DIY kit or fully assembled for a fair price. If someone is interested

Yes that will be nice. Would you maybe also consider sharing your PCB design files?
I made this hardware during LoRaWAN research for a company. I can't just share all design files. I will make a list with prices and options for those interested.
Are they CE or FCC approved and is the software LoRa-Alliance certified?
thanks
Andrew