Looks very interesting/ Are you publish sch/brd files ?
Looks good. Can you publish sch/brd files ?
Thanks
Hi - I agree. I have been running a homebrew gateway with MTAC-LORA and NanoPi Neo for 6 months. Using poly-pkt-fwd.
I was one of the RAK831 beta winners and expect the gateway next week. I would be very interested to try your board. The display I am thinking of using is an E-Ink module for current stats - 250x122 resolution.
Not sure about e-ink for status displays, first they actually need a fair bit of power to change (entire screen needs refreshing) and also if everything crashes or if the power is out the display will still happily retain a valid but misleading status.
I got my Gateway tonight.
I'm starting the RPI0W shield right away…
I'll make 2 versions
1: basic with 0,96" OLED blue screen and GPS L80 or Ublox Max M8 GPS
2: extended with bettery and charger + Solar cell capabilities + Big Oled Screen
If you have suggestions, it is the moment to request features
the 'outdoor' version don't need a big oled I think.
distinquish between 3 use cases
desktop gateway with info panel connection
outdoor gateway with a/solar or b/ POE
mobile gateway with 3/4g module connection + gps onboard
don't mount the display on interface board… very difficult to integrate in a nice enclosure, just the I2C connector is fine.
but … would'nt it be nice if your gateway is just a BT device that you can pair with a phone to get some status info ?
I love the idea of mobile GW. For cars and bickers also
The POE Job for PIZero has already been done there.
It'll be easy to merge
My board won't have any headers for displays. I consider gateways to be install-and-forget devices you put on some roof, no need for fancy display's there
. Besides, the gateway itself is already networked, you can get all the stats you want from the console page or even by hosting a small webserver on the host-PC.
It will have a power supply accepting 5-40V input providing sufficient juice to power everything, maybe even some headers for passive PoE. I was also thinking on implementing a solar charger, but you can buy those cheaper on Aliexpres than I can buy the components here.
I'm also experimenting with 2G/4G modems (for another project), and might add it to the board later. The idea is to build a 'guerrilla gateway' you can place at remote locations without any need for wired connectivity or power.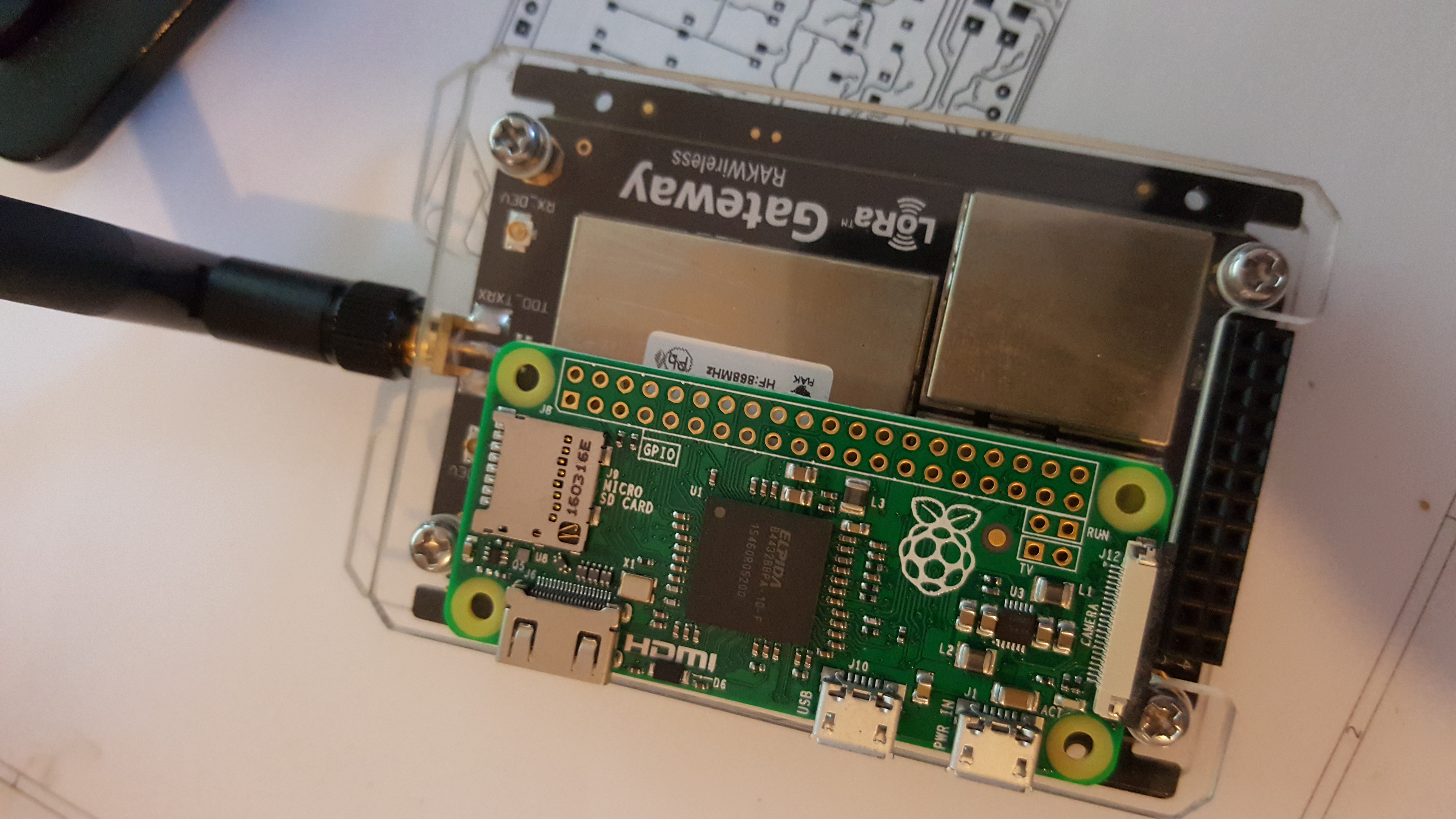 Issue with Raspbian Stretch and gateway install script
Got my RAK831 last weekend. Used the https://github.com/ttn-zh/ic880a-gateway spi branch for the setup. The installation went pretty smooth on a Raspberry Pi 2 Model B with Raspbian Lite Stretch.
However, there was one small glitch; Rasbian and Debian Stretch use predictable network interface names. Instead of "eth0" you will get an "enx[mac_address]" name. As temporary workaround, I changed the GATEWAY_EUI_NIC string to the new enx[mac_address]. After this change, the installation was successfully performed!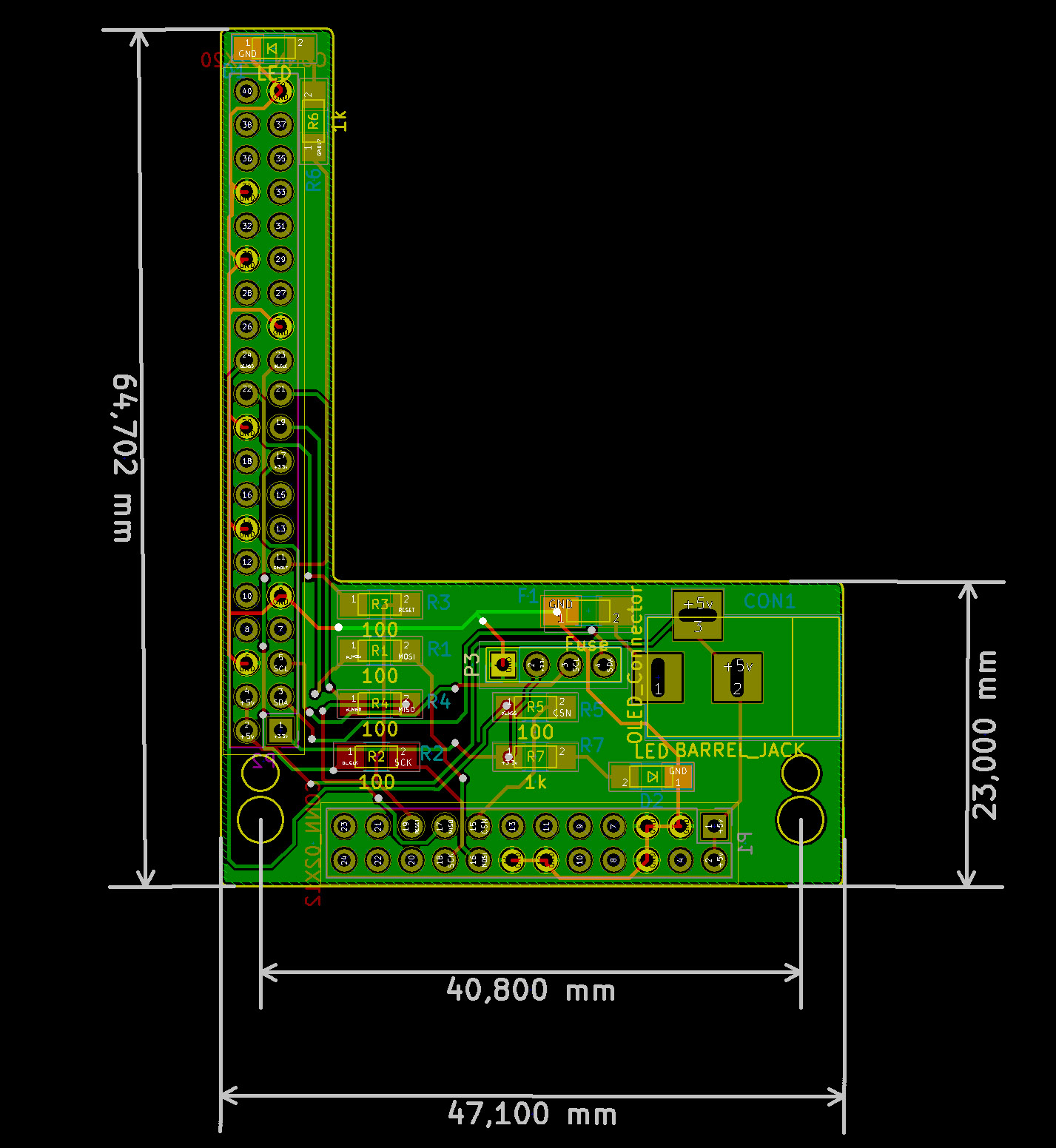 It needs some cosmestic enhancements and dimension adjusting but looks like my basic RPI ZeroW adaptor is almost finished
Hi all, someone can guide me in the additional steps to configure the RPi+RAK for AU915, I am following the hackster tutorial but I have not achieved the connection with TTN. Thanks
Up and running with RAK831 here in the UK, also using new TTN packet forwarder too - all straight of the box with no issues so far - lots of testing to do mind.
Did you use a guide to set it up?
Hi,We will have hardware set up manual soon on our website. This is ken from rakwireless.
There is a very nice hardware/software guide here https://www.hackster.io/naresh-krish/getting-started-with-the-rak-831-lora-gateway-and-rpi3-e3351d?
PI pins >> https://developer.microsoft.com/en-us/windows/iot/docs/pinmappingsrpi
Just followed this for the basic PI setup, I stopped before the wifi part as I am using wired ethernet, then I switched over to the new TTN packet forwarder setup guide, I think you need to have basic linux skills to get around things mind (mine are very basic but improved in the last 24hrs) - I did try the older packet forwarder first and then installed the new one - no issues. I only mention the old one as it did seem to install drivers from memory.
Only done basic testing, its indoors and getting lots of 'WARN Uplink packet received with an invalid CRC error - ignoring" but testing my own device both uploading and downloads are working it seems.
My first multi channel gateway so a) wasn't expecting any other packets to be coming is given the lack of gateways in the area and how remote we are b) not sure if CRC errors on incoming packets is just normal and simply down to being indoors on test bench with noise interference.
Interestingly, I have single channel Dragino LG01 working and I'm sure there is no CRC validation on those, even this picked up 2-3 packets each day from unknown devices.
It would be useful to have pin reset script in the build I think.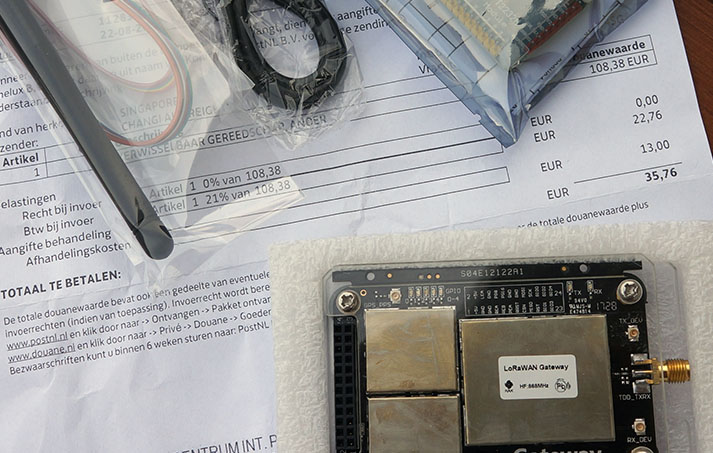 I knew it, one day you pay … import taxes
yep. they will get you one day… me so far only once but expensive it was that time. It seems to depend mostly on shipping company and std. ali shipping works best for me.
always ask them to mark export as 'gift'
That is illegal and might result in fines.