Hi All,
I'm rather new to LoRa and the likes of it and just re-used my TTIG with an external antenna and got a rather 'OK, I see some data but what does it mean' situation.
When using the mapper I got a rather eh, colorful view of green, blue, yellow and red symbols. I reckon there is a meaning of these colors ?
So after clicking on my blue gateway it shows me some data, right. How many channels does the TTIG have, mine only shows 3 is that correct ?
Doing some clicking and viewing in the mapper options etc. I got this message received by my GW from 77 km distance.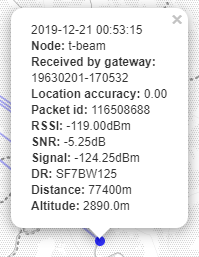 Can someone explain how I need to read the values displayed.