Hello everyone,
I am asking for help as I am encountering a strange behaviour with my things indoor gateway.
I am working on a project where I would like my sensors to send information once a day to my gateway, and to get confirmation that the message has been received. My testing where doing fine, but suddenly yesterday confirmations for my uplinks stopped appearing in my gateway traffic console. I was correctly seeing them before (no capture, sorry… Didn't see it coming) but now all I see is the following :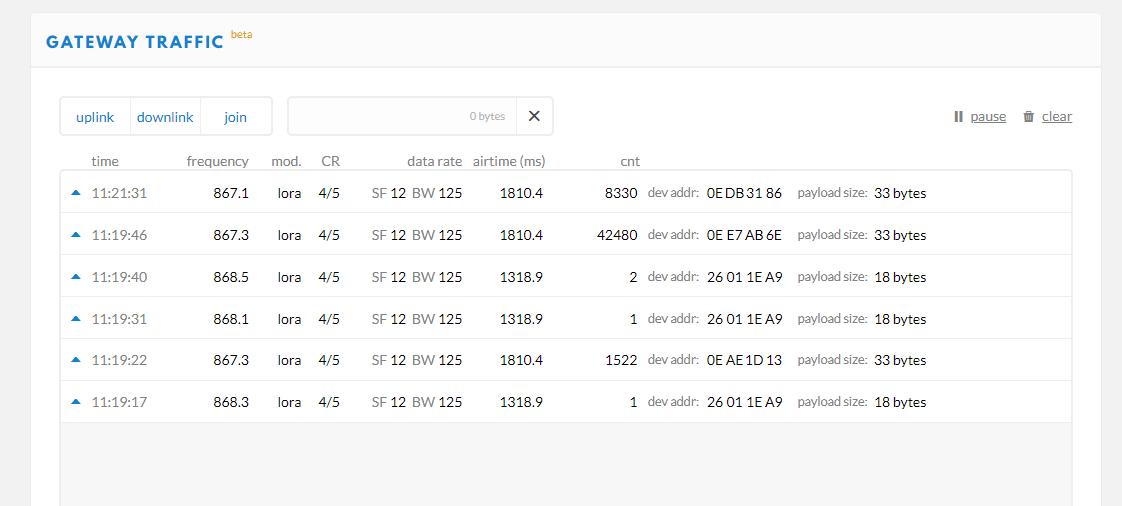 (my device is the one with devaddr = 26 01 1E A9, sending confirmed uplinks)
here is my application data for the sensor: (if it helps…)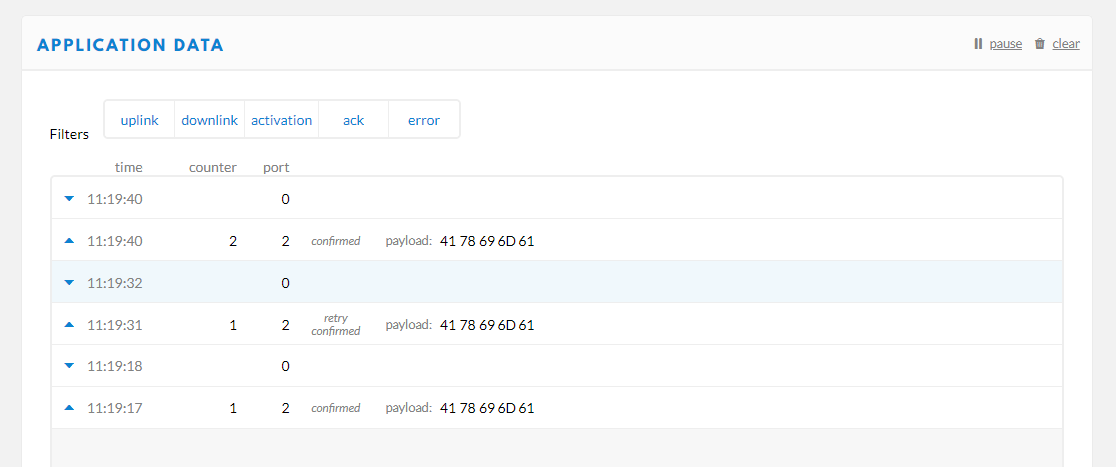 And here is one of the uplink (decoded) received by the gateway :
Assuming base64-encoded packet
gKkeASaAAQACCYrwCqQ33alH

Message Type = Data
  PHYPayload = 80A91E012680010002098AF00AA437DDA947

( PHYPayload = MHDR[1] | MACPayload[..] | MIC[4] )
        MHDR = 80
  MACPayload = A91E012680010002098AF00AA4
         MIC = 37DDA947 (from packet)
             = 37DDA947 (expected, assuming 32 bits frame counter with MSB 0000)

( MACPayload = FHDR | FPort | FRMPayload )
        FHDR = A91E0126800100
       FPort = 02
  FRMPayload = 098AF00AA4 (from packet, encrypted)
             = 4178696D61 (decrypted)

      ( FHDR = DevAddr[4] | FCtrl[1] | FCnt[2] | FOpts[0..15] )
     DevAddr = 26011EA9 (Big Endian)
       FCtrl = 80
        FCnt = 0001 (Big Endian)
       FOpts = 

Message Type = Confirmed Data Up
   Direction = up
        FCnt = 1 (from packet, 16 bits) 
             = 1 (32 bits, assuming MSB 0x0000)
   FCtrl.ACK = false
   FCtrl.ADR = true

No other gateway is in range. My gateway is the only one receiving the uplink message.
I have tried to disable ADR, resetting my sensor, my gateway… But nothing helped. Any help is welcomed! I am a beginner with this kind of technology, I'm sorry if the solution seems obvious to you.
Thanks in advance,
Paul