Background
Today I had a discussion with the community in Australia, and one of their main concerns is how to distinguish between V2 coverage and V3 coverage on a map. Currently TTN Mapper only shows coverage for the V2 Public Community Network. Another feature request is to indicate which frequency plan a gateway is using (Australia uses both AU915 and AS923).
Current situation
All data that is forwarded to TTN Mapper, via the HTTP Integration on TTN v2 is assumed to be for the Public Community Network.
Currently on TTN Mapper there are 4 colours being used for gateway icons:
Blue: gateway is online and the coverage is mapped. ie, we have received at least one packet through this gateway, and we can assume the gateway is at this location and working correctly.
Green: gateway is being reported as online by the network, but no packets have been forwarded to TTN Mapper. We therefore can't reliably say if this gateway is at its reported location, or if it is working correctly.
Yellow: Gateway has only been heard on one or two channels. It is assumed to be a single channel gateway.
Red: Gateway is being reported as last heard more than an hour ago, but less than 5 days ago.
The default coverage layers are blue, but more advanced layers use a rainbow to indicate the signal strength.
How to indicate different networks and frequency plans
On TTN v3 mapping data can come from multiple locations. This includes private hosted clusters, cloud hosted tenants, or the public clusters. In short that is any network that peers using the Packet Broker, or has the TTN Mapper Webhook template enabled.
To make the map user friendly, we need to indicate the network instance, as well as the frequency plan for the gateway and the coverage it is providing. In other words we need to show the public network's coverage, and public coverage provided by private networks - indicated differently.
This is where I need recommendations from the community. A simple gateway icon colour like for V2 might not be good enough. Does anyone have UI/UX experience and ideas how we can do this?
Data flow V2 vs V3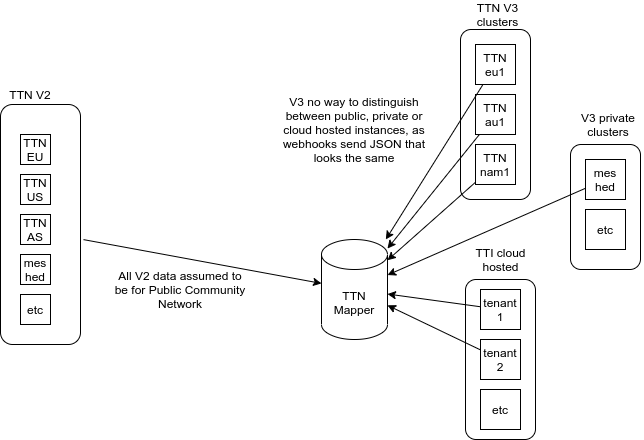 With the launch of TTN v3, along with the private and hosted instances that potentially will feed data to TTN Mapper, things became a little tricky. On V2 all data was assumed to be for the Public Community Network, because there was no peering. On V3, with the Packet Broker, this assumption can not be made. We therefore need to be able to identify the network instance where the Webhook HTTP POST originated.
Some Github issues around this topic:
Summary
Please help us to find a good way to indicate different networks and frequency plans on the map.
We are actively working on adding support for V3 to TTN Mapper, but due to some hurdles this is a little tricky.
Any ideas or comments are welcome.