Bill of Materials

Our bill of materials (set available at
TinyTronics
) . The Italic lines are NOT included in the kit!!
•
RFM Module RFM95W (868 Mhz)
•
Pro Mini 3.3V 8Mhz (5V will NOT work!!)
•
FT232RL-3.3v-5v-TTL-USB-Serial-Port-Adapter (has to have a 3.3V option!)
•
1x resistor 1k (brown-black-red)
•
2x resistor 4k7  (yellow-violet-red)
•
1x resistor 10k (brown-black-orange)
•
1x resistor 100k (brown-black-yellow)
•
Header 6p female (Arduino programming)
•
Header 4p female (sensor)
•
Header 4p male 90 degrees (gps) (cut 2p from the header included with the Pro Mini)
•
PCB 'Loratracker RFM98 including special headers  (2x 8p 2mm, 2x 12p 2.54mm, 1x 2p 2.54mm) for RFM and Arduino - ***
•
Sensor TH06 (si7102) (Temperature and Humidity) - ***
•
Sensor BH1750 (light sensor)
*** parts not included in the kit
We use a very compact 'sandwich' construction. So you have to follow the steps in the manual in the right order! You cannot reach some soldering points when you mess up the order!
There is an option to 'low power' the Arduino. BUT this requires some precise soldering!! The setup will work without removing the components. So if you are a novice solderer, skip the first part! It requires a sharp knife to remove the power converter, and to cut the connections for the two on board leds. If you want to battery power your node for a longer time (weeks or more) this is the option for you. Current in sleep mode will be reduced to <100uA. 
(OPTIONAL) Remove the Regulator
The easiest way to remove the regulator and not damage the board is to use a very sharp scalpel to cut through the regulator leads at the point they join the regulator body.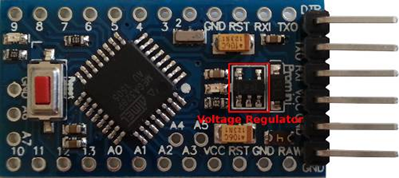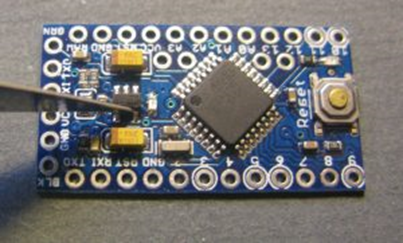 (Optional) Remove the LEDs
There are two LEDs on the Pro Mini board. The two LEDs are marked with a red square in the following picture. The power LED is marked with an arrow. If you are not sure where the power LED is on your board, then you can just power it and you will see the LED. 
When you found the power LED, then try to locate at least one trace that leads to the LED. In the second picture below, I marked the traces on my board. A high-resolution picture with a lot of light helps to find the traces. 
When you found a trace to the power LED, then you take a knife and break the trace, so that it will not conduct any more. You can see my result in the third picture below.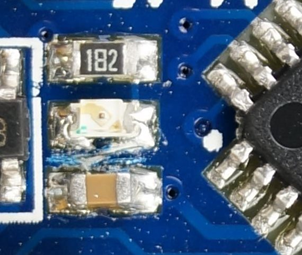 Removing the LEDs can be tricky, so it's easier to remove the series resistors for the LEDs instead. This version of Pro Mini also has a resistor feedback network for the regulator across VCC, these consume power so should be removed. Just push the resistors aside with a soldering iron. The picture shows the Pro Mini with unwanted parts removed, locations of the removed components are circled in red.