Hello,
We are using RN2483 with ATmega644PA. Located in EU, running on 868 band, antenna is DELTA6A/X/SMAM/S/S/11.
sys reset
RN2483 1.0.3 Mar 22 2017 06:00:42
mac get deveui
ok
<deveui, enters this into device registration>
mac set appeui <appeui>
ok
mac set appkey <appkey>
ok
mac set adr on
ok
mac save
ok
mac join otaa
ok
denied

There are two gateways nearby. It always says denied, however, at what seems to be completely random - about 1 out of 20 times - it will create a new entry in the application data tab under "activation" in the TTN console, but the module still returns "denied".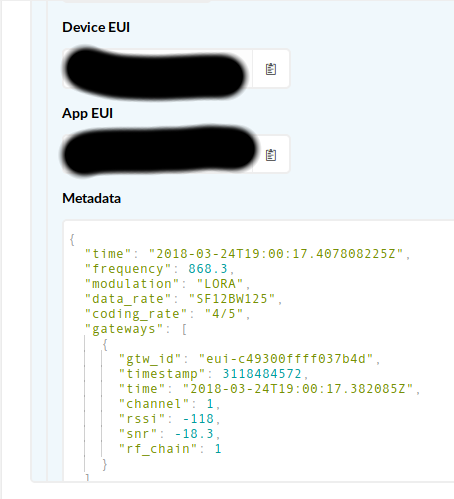 What is an acceptable/normal RSSI? What could be causing this behaviour? Lack of signal?