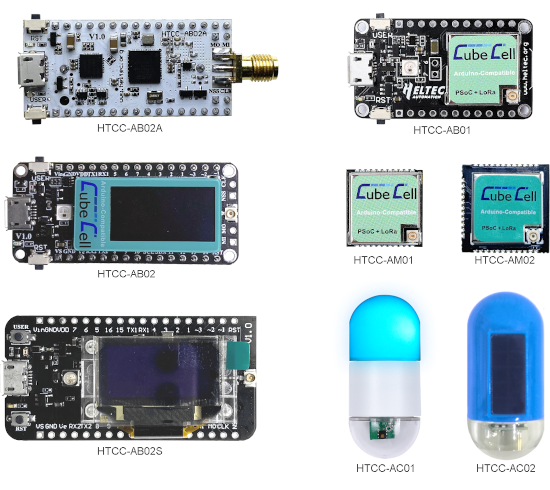 This is the main Heltec CubeCell topic.
For the previous part of this topic see: Heltec CubeCell - part 1
Heltec CubeCell Series is a product series consisting of LoRaWAN modules, development boards and sensor capsules. The HTCC-AM01 module is based on the ASR6501 and the HTCC-AM02 module is based on the ASR6502. The HTCC-AB01 board uses the HTCC-AM01 module. The newer 'xx02' development boards appear not to use a module but have the ASR650x directly mounted on the PCB.
The CubeCell products use very little power during deep sleep and are suitable for battery powered operation.
The ASR6501 and ASR6502 are SiP's (system-in-package) that combine a Cypress PSoC 4000 ARM Cortex-M0+ 32 bits 48MHz MCU (with 16kB SRAM and 128kB flash) together with a Semtech SX1262 LoRa tranceiver in a single package.
The ASR6501 based products have limited available GPIO ports and no available SPI (SPI is used for the SX1262 LoRa tranceiver). The ASR6502 based products have more available GPIO ports, have a second I2C port and have an available SPI port (actually two SPI ports but one is used for the SX1262).
The CubeCell products have an integrated LoRaWAN stack (based on Semtech's LoRaMac-node). It can be programmed via API and also via serial AT commands.
The CubeCell products support development with the Arduino framework. Sketches are uploaded via the serial port. The development boards have a USB port with USB-to-serial so sketches can be easily uploaded via USB. Uploading sketches to the sensor capsules requires a special adapter from Heltec.
In June 2020 supported for PlatformIO was added.
Heltec uses a custom CubeCell bootloader for ASR650x. Serial number and a license that enables Arduino support are stored in flash memory. Due to implementation thereof it is unfortunately not possible to use the ARM SWD interface for firmware upload and debugging (with J-Link or ST-Link).
The CubeCell development boards and sensor capsules come in different versions with different optional features like UFL/IPEX or SMA antenna connector, RGB LED, OLED display, battery holder, GPS and solar panel (connection).
Pinout diagrams and schematic diagrams can be found in the CubeCell documentation
(check under 'Hardware Update Logs' of a specific board).
Useful links: