I've set up one LoRa Gateway and one Lora Node and an Application. Once every quarter I send 3 bytes of data from the node.
The debug printouts from the node shows for example:
18:54:25.816 -> 1c1c01
19:09:26.744 -> 1c1c01
19:24:27.675 -> 1c1c01
19:39:28.632 -> 1c1c01
19:54:29.560 -> 1c1c01
20:09:30.467 -> 1c1c01
And I can verify the correct transfer in the data tab of the Application:


Now I try to setup a HTTP integration to the request.bin but the raw data received does not match up: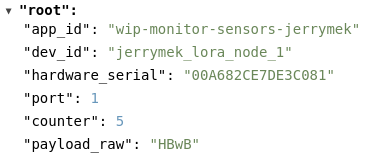 Any suggestions what can have gone wrong?
Thanks!
Jerker