Hi There,
To avoid long thread on this topic I've created this new one, sorry it's not the right way to do.
For testing I've just setup a new small Raspberry PI Lora PCB for Single Gateway or Node
It has just few minimal features because I wanted it to be simple small and cheap.
Placement for RFM95/96/98 Lora module
Placement for choosing single Wire, SMA or u-FL Antenna type
2 x LED for visual indication
Ability to reset module from a GPIO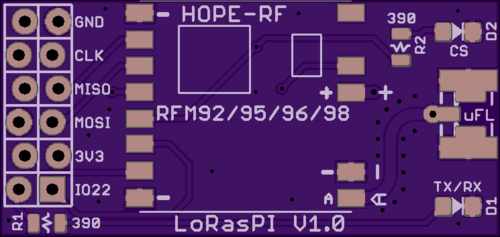 It should works (not tested yet) with Single LoraWan Gateway code changing just some pinout.
More information, design sources and other, see on github repo
Let me know if any had a chance (and wants) to test before I can (OSHPark to France is little slow).