Hi,
I was very motivated trying the V3 stack so I registered my first device / application yesterday. Unfortunately its not working.
I used a (new and unused) Dragino waterleak sensor (LWL01 -- LoRaWAN Water Leak) and I think I set everything correctly.
Keys double checked, Lorawan Version 1.0.3, Class A, join server default (things network).
As You can see in this screenshot of the Gateway (V2), there is no green join accept on the gateway side, but it seems the join is ok, since it got a TTN device address and starts sending messages. It sends 8 times (7 retrys) the same Message. I guess retrying beause there is no answer from the gateway?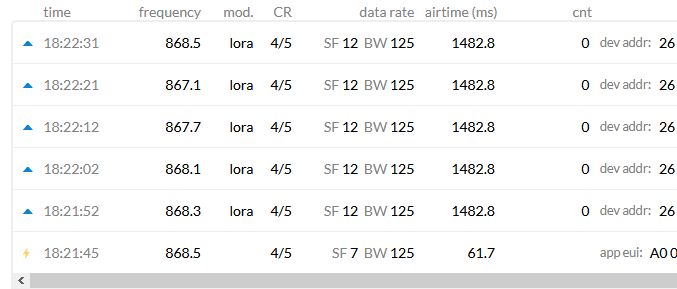 Looking closer at this first data message:

It seems not to be forwarded to anywhere, but in the V3 Application livedata I see: the first message arrived in the application, and only the first, not the other 7. (Dont mind the different timestamps, screenshots from different connectiontest but same behaviour) It scedules the ADR request downlink and nothing more happens.
The join seems also fine on the application livedata (sorry no screenshots).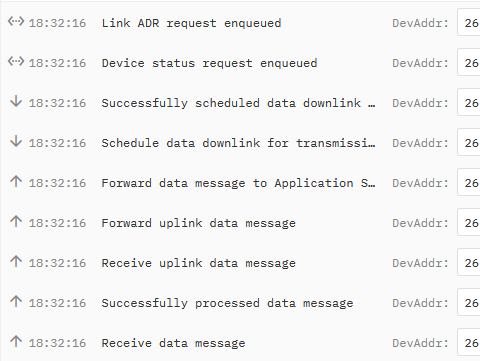 To make sure its not a problem with the sensortype I´ve not used bevore I registered the same devicetype (not the same device) to an new V2 application and it works just as expected. Joining (with green join accept), sending data messages just once, getting sort of ACK by the gateway (I guess with ADR request) and lowering TX SF to 9 in steps of 1 SF per message.

So I think the problem with the V3 application might be the missing downlink which seems to not be sent. And also I´m worried about the missing green join accept in the gateway console, but I don´t know if thats a problem, since the join seems to work.