We are using a RAK3172 on a custom PCB where we are using RAK3172 module as an end device and trying to register it on the TTNv3. After following the example thoroughly from starting to end as shown here
I am getting this error in YAT terminal after successfully booting and uploading the firmware(.bin file) in RAK3172 module.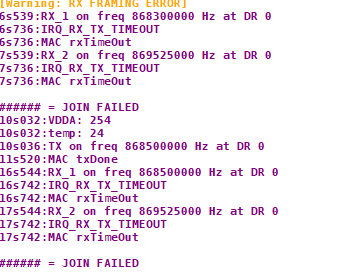 Few points:
The Reset pin is pulled up to VDD by a 10k resistor.
In the se-identity.h file I have set the LORAWAN_APP_KEY same as AppKey in TTNv3 console which is generated in the console itself.
I have set the LORAWAN_NWK_KEY and LORAWAN_NWK_S_KEY as default which is 2B,7E,15,16,28, AE, D2, A6, AB, F7,15,88,09, CF,4F,3C and LORAWAN_APP_S_KEY same as LORAWAN_APP_KEY.
What is the key point that we are missing?