I did some measurements with a N1201SA antenna analyser on two small antenna´s about 50mm long. I got those antenna´s with my Pluto SDR receiver from Digikey. Those are specified as general purpose UHF antenna´s. Inside, connected to the center pin is a straight wire of about 30mm surrounded by a coiled wire 20mm long soldered to the outside of the connector.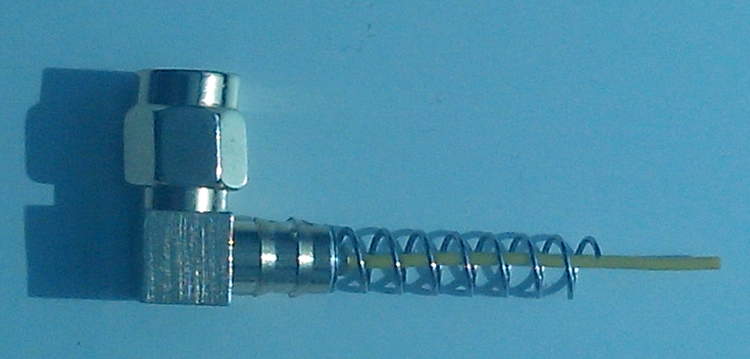 antenna without plastic cover.
I measured the antenna directly on the N1201SA and also with several lengths of 50 ohm coax with a clamp_on ferrite choke close to the antenna side of the cable.
Directly on the analyser the antenna resonates at 820 to 825MHz with a VSWR of 1.1 to 1.2. Dependent on the place of the analyser.
Then I inserted some cablelengths, 15cm, 50cm, 65cm and 100cm with ferrite choke. Holding the antenna by the ferrite clamp so there is no handeffect. With all cable lengths the antenna´s had a resonance frequency between 865 and 870 MHz and a VSWR between 1.05 and 1.35.
Best result I had with a 50cm plus a 15cm cable which including the connectors was 68,5cm. Because cable_velocity factor = 0.66 the electrical length for the cable is 103cm which happens to be 3 wavelengths at 868MHz. When cable_length is a exact number of electrical (1/2) waves, the analyser just sees the antenna and ignores the cable. With this length of cable the antenna resonates at 867MHz with a VSWR of 1.05.
So it seems to be a good 868MHz antenna.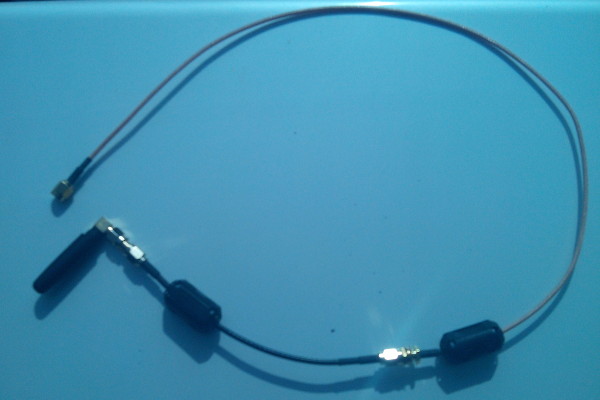 antenna with 65cm of cable.
Conclusion for this type of antenna´s is that the working is strongly dependant on the device it is mounted on. Meaning the amount of metal that functions as a groundplane. The antenna analyser is, compared to the antenna, a large chunk of metal. I think that is the reason that the resonance frequency was lowered by 45MHz when directly connected to the N1201SA.
Also I wonder how effective this short 30mm wire surrounded by a grounded coil can radiate. I believe that a single straight wire of 85-86 mm long directly soldered to a device is a more effective radiator than this short antenna. But sometimes you need a small antenna for a small device.
Note: without the plastic cover the antenna resonates above 900MHz