I managed to set up the TTN Stack V3 following the Getting Started guide. I used this docker-compose.yml as a template. This is my status page:

It seems, most things went ok so far and it is the latest version of the stack. I have one gateway installed that show some traffic via UDP. I can set up an application and link to the network-server. I can register devices following this guide. But I see no traffic on the devices.
The devices and the gateway have been running on TTN before, so there is no general issure. But I was unsure about some details:
For my devices, I have a DEV_EUI, an APP_EUI and an APP_KEY, that have been used on TTN.
When I register a device in V3, I´m unsure about the right values.
I need to set:
MAC-Version (V1.0.3)???
PHY-Version (Phy V1.0.3 REV A)???
Frequency plan (Europe 863-870), but what´s the difference, there is one marked with TTN
Join-EUI (Same as APP-EUI??)
DEV_EUI (ok)
Join-Server (localhost)
App-Key (Same App-Key as used before?)
Now I can create the device, but get no data. In the gateway traffic I see: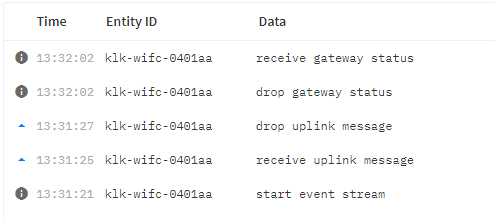 On the console log I see this messages:
stack_1 | INFO Finished unary call duration=1.201101746s
error=error:pkg/networkserver:device_not_found (device not found)
error_correlation_id=8b36cb6844e442229158e88ac9592b42 error_name=device_not_found
error_namespace=pkg/networkserver grpc_code=NotFound grpc_method=HandleUplink grpc_service=ttn.lorawan.v3.GsNs namespace=grpc request_id=01DSV8NTZ410GFR299Q2W09P0F
Any Idea, what went wrong?
From the internal gateway logs it seems that messages are not acknowledged. And the Test-device is not joined to the network.