In the Console Live data view of my V3 gateway I see that each received uplink message is forwarded twice. My gateway is 'LoRa Basics Station' based.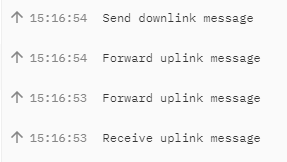 Comparing the Event details of both forward events does not give much information.
Why is each received uplink message forwarded twice?

The 'Send downlink message' event shows an up-arrow like is shown for uplink messages.
I would expect to see a down-arrow here but is not the case.
Is this a bug in the console?