What happens to the RSSI at a gateway when a BIG antenna is replaced with a SMALL antenna?
I have a test gateway in my worskshop. It has been using a Taoglas OMB.868.B05F21 collinear dipole array which is a typical BIG 5dBi high-gain antenna, 1m long, in a white fibreglass tube. This has been replaced with a SMALL Taoglas MA120.A.QP.001 -5dBi gain "puck" omni antenna mounted on a 25cm x 25cm steel plate ground-plane. No other changes.
I have a test "thing" outside, about 25m away and through 2 masonry walls sending uplinks every 2 minutes.
The average gateway RSSI for uplinks from the test thing with the BIG antenna on the gateway has been -65dBm. Range is -62dBm to -67dBm.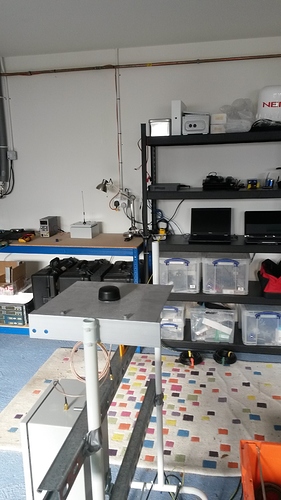 Here's a general picture of the gateway with the new SMALL Taoglas puck antenna.
Here's a close-up of the new SMALL antenna - under 5cm in diameter.
My estimate of the new average RSSI was that I would lose between 10dB and 15dB. 10dB as the difference between a +5 gain antenna and a -5 gain antenna and then up to another -5 because my ground-plane is smaller than Taoglas recommended 50cm x 50cm ground-plane and because I'm an "antenna pessimist" and because Taoglas bluntly calls this a "short range antenna".
I now have the new average RSSI. What does the collected wisdom of the forum think the new RSSI will be? Please make your estimates by replying to this topic. A well-done will be awarded to the nearest response(s).