Here's mine: eui-58a0cbfffe800298
Same issue TTIG: eui-58a0cbfffe800273 …
eui-58a0cbfffe80036e
eui-58a0cbfffe8003aa
Alright. So all of them should be back online now. Seems like I needed to restart a backend service as some of them were not able to connect.
I'll add more redundancy this week to prevent instances like this where some gateways are not able to connect .
Thanks for reporting.
Also, if your gateway is still not online (but make sure your internet works first), please ping me your eui and I'll look at it.
Awesome, thank you! We were back online this morning when I woke up and checked.
Much appreciated!
worked for me! both back online
Hi, I am also getting the same problem today for eui-a84041181d51ffff gateway.
I rebooted, checked internet connectivity, firmware version etc - everything looks correct. Can you please help??
Thanks, Ioannis
Hello Ioannis,
This thread is special for the TTIG gateway.
the EUi you given (eui-a84041181d51ffffis) for a Dragino Gateway please use for support and qustions the right toppic : DRAGINO problems and solutions topic part 2
If it is not solved the last day then it is not the problem from above.
I can't move this to the aboven mentiond group maybe somebody else.
succes
Johan
Hi KE, These 4 TTIGs have been offline for the last >3-4 Hrs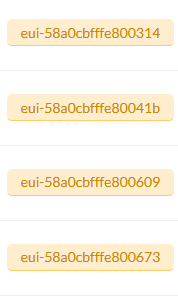 G-S3 TestGW026, 027, 028 & 029.
All have been power-cycled and other GW's in close proximity, some connected on same Wifi/backhaul networks, are passing node traffic but reviewing lists of receiving GW's in local node Application Data tabs shows metadata via the alternate GW's but none of these 4 listed.
Can you look at the back-end/bridge implementation and fix where needed, please.
FWIW - my gateway eui-58a0cbfffe8002bc is now connecting and seeing traffic.
I do note then when there is no traffic, it appears to have to reconnect to the network about once per minute. – The status light light goes from solid green to flashing then back to solid. Is this normal? The "overview" screen "last seen counter" also only resets about once per minute.
My The Things Network Gateway does does not behave this way. it stays connected and the "overview" screen resets the last seen counter every 30 seconds.
Both gateways appear to be seeing all traffic.
Offline yet again for 9 hours!!!
Gateway ID eui-58a0cbfffe80030f
TTI is notified and investigating !
Mine is also out for 9 hours
To prevent some people posting nonrelated and non TTIG's as being affected, I close temporary
this topic.
looks like its working again
Hi!
Got my TTIG a while ago already, but never seen it connected.
As there were problems reported didn't want to add extra noise.
What's the current status?
Have performed reset and reconnect procedure and still the same-
not connected. Solid green light with periodic multiple 1/4sec green blinking.
My TTIG is eui-e58a0cbfffe800c0
@KrishnaIyerEaswaran2, could You, pls, advise / update on current situation?
Thanks in advance!
Regards
/Romans
The EUI is eui-e58a0cbfffe800c0 is wrong. Is it eui-58a0cbfffe800c0e? Can you check the back of your gateway for the correct MAC ID?
Silly me 8( I registered it under the wrong ID. It's actually eui-58a0cbfffe800c07.
Just deleted the wrong one, registered with correct ID and whuala - it's green in console
and connected.
Thank You once again and sorry for disturbance!
Regards
/Romans